28 dead, 5 million people at risk as Philippines' strongest typhoon makes landfall (PHOTOS, VIDEOS)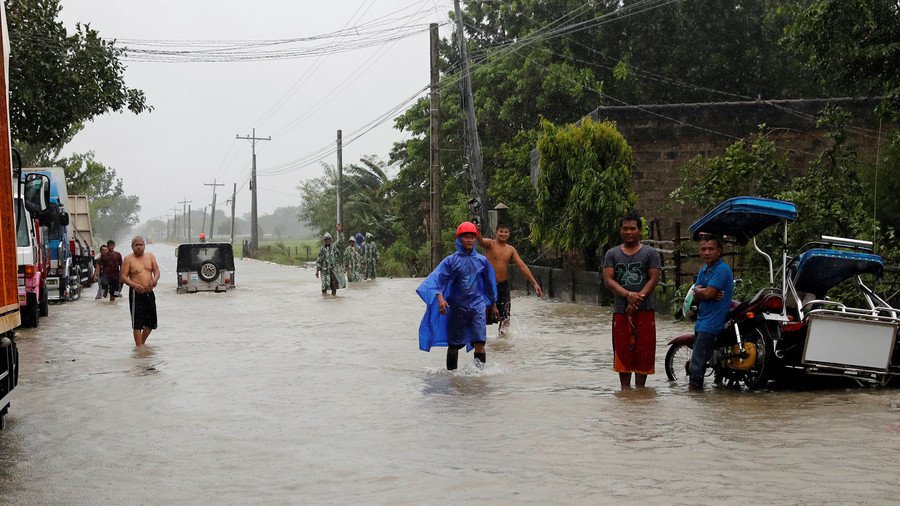 One of the strongest typhoons in the history of the Philippines has made landfall, already leaving 28 people dead, according to AP, citing police. Super Typhoon Mangkhut is expected to affect up to five million people.
Mangkhut, known locally as Ompong, has recently been downgraded to a category-4 Atlantic hurricane. It is essentially a huge 900km (560-mile) rain cloud which could, when mixed with seasonal rain, create waves of up to six meters (20ft) on the coasts of Cagayan, weather experts have warned.
Staggering winds of 205kph and extreme rainfall caused some structural damage and cut power to more than four million people across the Cagayan province on Luzon Island, around 300km north of Manila.
"It can lift cars, you can't stand, you can't even crawl against that wind," warned Philippines government forecaster Rene Paciente, who also cautioned that even if the typhoon weakens after making landfall, it will still be incredibly destructive.
The victims mostly died in landslides, one of them an infant child who died with their parents after the couple refused to immediately evacuate their high-risk home, according to AP.
At least 40 people have been trapped in a bunkhouse in Itogon, Benguet, Mayor Victorio Palangdan said, as quoted by ABS. Authorities say that the bunkhouse has been buried in a landslide and the people inside are feared dead.
"Almost all of the buildings here have been damaged, the roofs were blown away," Rogelio Sending, a government official in Tuguegarao, the capital of Cagayan, told Reuters. "There has been no electricity supply... communications were also down."
READ MORE: Unseen in 35 years: Veteran weather reporter on oceans 'exploding' with tropical storms
"We've received reports that many trees were uprooted and electric posts toppled and are blocking the roads. This makes the clearing operations really difficult."
Farmers have scrambling to save their crops from Mangkhut – which struck at the beginning of harvesting season – while those in the typhoon's path who cannot evacuate have been stocking up on supplies.
Some 105,000 people are staying in temporary shelters after being evacuated in preparation for the storm, which made landfall early on Saturday. The storm is expected to last the weekend in the Philippines before it makes its way to Hong Kong and southeastern China by Monday morning.
More than 100,000 residents and tourists in China have been moved or sent home, and more than 3,000 shelters have been organized in preparation for the storm. Hong Kong airline Cathay Pacific said all Sunday flights would be grounded.
Worryingly, the strength of the storm resembles that of Typhoon Haiyan, a natural disaster in 2013 that left 7,300 people dead and more than five million displaced in the central Philippines.
Like this story? Share it with a friend!
You can share this story on social media: