'Revenge on society': 11 dead, 44 injured in ramming, knife and shovel attack in China (VIDEOS)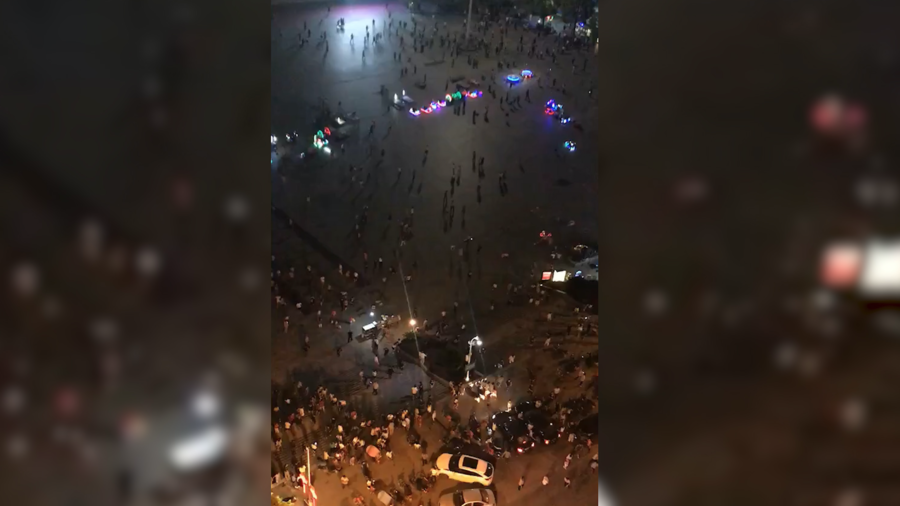 At least 11 people were killed and a further 44 were injured when a car ploughed into crowds in a public square in central China. The driver then exited the vehicle and chased people with a shovel and knife.
The incident took place shortly after 7:30pm local time Wednesday in Hengyang city in Hunan province. A dance event was being held in the Mishui town square at the time of the attack. Video shared by Chinese state media shows scores of people fleeing in panic as the attack unfolded.
Eyewitness footage uploaded to social media shows multiple bodies strewn across the square with people tending to the injured on the blood-soaked pavement, to the sounds of despairing screams all around. During the attack, the suspect exited the vehicle and chased bystanders with a spade and knife, The Guardian reports.
"There was a vicious incident that a person drove deliberately into crowds at Mijiang Square," the local government said in a press statement, as cited byCNN.
The suspect, a 54-year-old man named as Yang Zanyun from the local area is in custody. He was a known criminal having served various prison sentences for arson and assault convictions.
"[The suspect] has been sentenced many times for drug trafficking, theft, and other crimes, creating a desire for revenge on society," the Hengyang government statement said. Authorities have no yet given a motive and no official mention of terrorism has been made.
READ MORE: 7 injured in Paris after man armed with knife, iron bar goes on stabbing spree
China has witnessed several mass casualty attacks in recent years including an apparent terrorist attack at the Kunming train station on March 1, 2014 in which 31 civilians were killed and over 140 were injured in a mass stabbing attack perpetrated by six men and two women believed to be Xinjiang separatists.
In April of this year, nine students were killed and 10 injured in a knife attack outside a school in the Shaanxi province in Northern China. The attack was reportedly a revenge attack as the suspect, named only as 28-year-old Zhao, was bullied at the school.
Think your friends would be interested? Share this story!