Ditching Ankara or expanding dominance? US eyes deeper military presence in Greece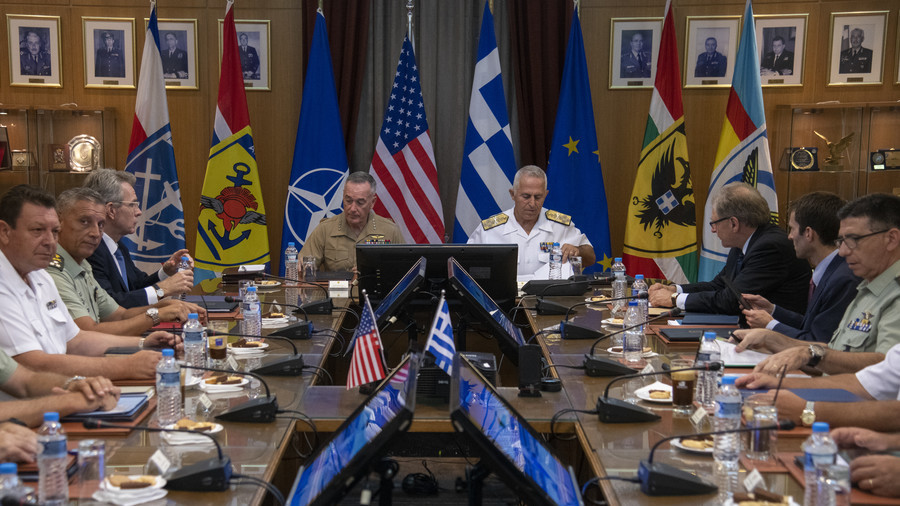 The US is looking to boost its military presence in Greece, citing the viable "geographical position" of the country. However, this may actually indicate preparations for a potential breakup with major ally Turkey.
The prospects for strengthening military cooperation between Washington and Athens have come under the spotlight following the recent visit of the chairman of the US Joint Chiefs of Staff, General Joseph Dunford, to Greece.
"If you look at geography, and you look at current operations in Libya, and you look at current operations in Syria, you look at potential other operations in the eastern Mediterranean, the geography of Greece and the opportunities here are pretty significant," Dunford said last week.
The top military official insisted, however, that an increased use of bases in Greece is not tied to strained relations between the US and Turkey, and that Washington is looking forward to continuing its use of Turkish Incirlik Air Base – one of the main hubs for US military activities in the Middle East.
A new report from the Wall Street Journal suggests, however, that the shift towards Greece might have "geopolitical" factors behind it, apart from purely "geographical," as General Dunford put it. The Pentagon is in talks with Athens about the expansion of US military operations on Greek soil in a "potential move toward the eastern Mediterranean amid growing tensions with Turkey," unnamed US sources told the newspaper.
Washington and Ankara have seen their relations gradually deteriorate following the botched 2016 military coup, which President Recep Tayyip Erdogan blamed on the elusive US-based cleric Fethullah Gulen. The bilateral ties of the two NATO allies suffered yet another major blow following Turkey's decision to purchase Russian S-400 anti-aircraft systems, which Ankara went forward with in spite of repeated "warnings" – or, rather, thinly veiled threats – from Washington. The US went as far as suspending delivery of the already purchased US-made F-35 Lightning II fighter jets to Turkey over the S-400 deal.
Given the already deteriorating US-Turkey relations, talk about more active use of military bases in Greece might be part of a search for alternatives to Incirlik Air Base, former US diplomat Jim Jatras said.
"I think that's less a question of sending a message to Ankara than scrambling around looking for alternatives. That is, Washington doesn't feel it can really rely on Turkey, and as Turkey is moving closer to Russia, the United States is looking around for other partners to compensate," Jatras told RT.
A breakup between the US and Turkey would be "very damaging" to Washington's involvement in the whole region. "The United States has long considered Turkey to be the southeastern anchor of NATO, and without that anchor, our position in the south Mediterranean, in the Balkans, in the Black Sea becomes much, much weaker than it was," Jatras stated.
So far, however, the US military activity looks more like an attempt to gain a stronger foothold in the Balkans and "to have a say in the eastern Mediterranean," rather than a search for an "alternative for Turkey," Former Greek Ambassador Leonidas Chrysanthopoulos says.
"The United States has lots of interest now to interfere with Greece and in the Balkans. They've already established a base [on] Crete and, from what we've learned, they would like also to establish bases in northern Greece," Chrysanthopoulos told RT.
What would actually push the US from Turkey to Greece, the former diplomat added, is ousting the Americans from the Incirlik base. Apart from a rather vague warning about that, Ankara has not taken any steps towards this decision so far.
The US shift from Turkey to Greece, if it actually takes place, would lead to a "rearrangement" of the security picture of the region, yet it would not actually change much in relations between Ankara and Athens, Jatras believes. "Turkey has always behaved very aggressively toward Greece," violating its airspace on an almost daily basis, while Greece has been cozying up to other countries that have strained relations with Ankara.
"It's important, by the way, that Greece is increasingly cooperating with Cyprus and Israel," Jatras said.
Many in Greece, however, "are not very comfortable with this close cooperation with the united States, taking into consideration what happened in the past," Chrysanthopoulos noted. The US' support for the military dictatorship in Greece back in the 1960s is not forgotten, and the Greeks are not eager to see a new wave of American "infiltration" into their country, the former diplomat believes.
Like this story? Share it with a friend!
Subscribe to RT newsletter to get stories the mainstream media won't tell you.
You can share this story on social media: