'Naughty snakes!' Pythons fighting over female fall through ceiling of Australian home (VIDEO)
Published time: 11 Sep, 2018 23:48
Edited time: 12 Sep, 2018 09:23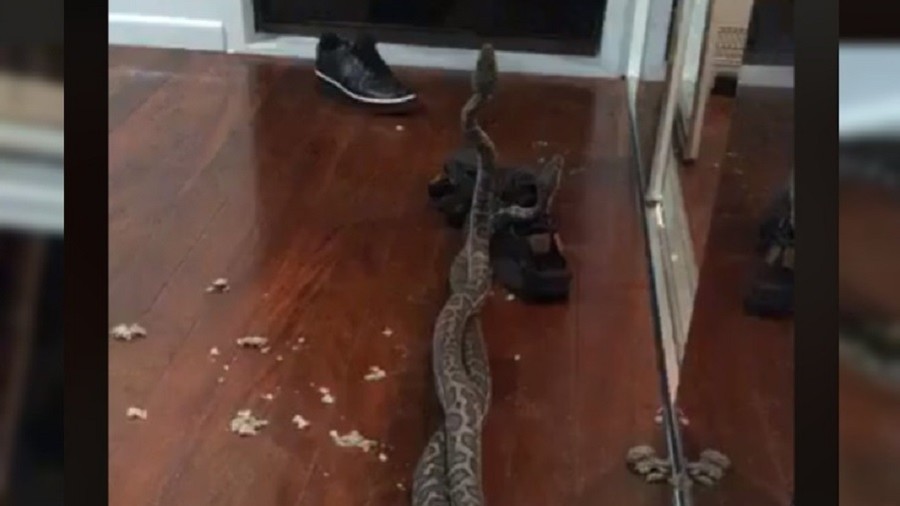 Many homeowners worry about burglars breaking in, but no one expects snakes to fall from the ceiling and fight in the middle of their bedroom. However, that's exactly what happened at a home in Australia.
The shocking ordeal – which happened at a home in the Brisbane suburb of Kenmore Hills – saw two coastal carpet pythons drop from a ceiling duct onto a hardwood floor during a fight over a female snake, according to Lana Field from Snake Catchers Brisbane, who filmed over five minutes of footage which shows the reptiles battling it out in the name of love.
Although the female snake cannot be seen, Field said "they know she's around because she's left pheromones."
The footage shows the ceiling duct cover and debris on the floor, and the uncovered hole in the ceiling which served as the snakes' entryway into the home.
"This pair have been a bit naughty... they have pushed their way through the ceiling and left a bit of a mess," Field says while the snakes are intertwining and wrestling.
Although the snakes are about 1.75 meters (5 feet 7 inches) long, Field said they are actually a "small average size for this area."
The two male snakes were relocated to a creek area around a mile away, according to Field, who said at the end of the video that she was going to take them away and leave the homeowners to "get back to their dinner and their life without snakes."
Like this story? Share it with a friend!