Thumbs up from Musk: Huge tube that collects sea garbage launched in ambitious eco-project (VIDEO)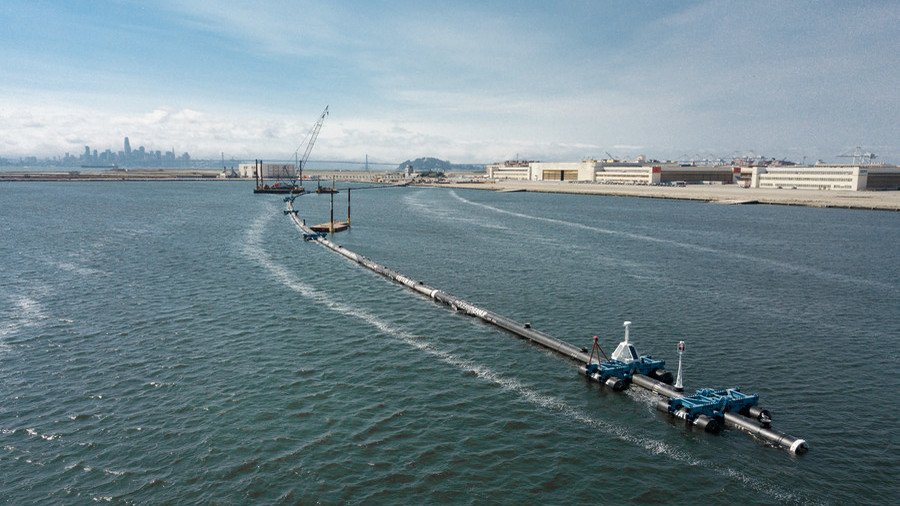 Scientists have launched the Ocean Cleanup – a 2,000-foot trash-catching tube that could get rid of half of the Great Pacific Garbage Patch in just five years – receiving a big thumbs-up from inventor Elon Musk on social media.
The innovative device was launched on Saturday in San Francisco Bay. It is hoped that it will collect 5.5 tons of plastic waste each month, and will eventually be released in the Great Pacific Garbage Patch – a trash mass two times bigger than Texas, which is made up of 1.8 trillion pieces of rubbish, according to a recent study.
Dutch entrepreneur Boyan Slat originally came up with the idea after a scuba-diving holiday in Greece when he was just a teenager. "I actually saw more plastic bags than fish around me," said the now-CEO and founder of Ocean Cleanup. Slat went on to set up the organization in 2013, and has so far raised $35 million through crowdfunding campaigns to help tackle the pollution issue in the world's oceans.
Ocean Cleanup's first attempt, called System 001, is a 600-meter-long float with a three-meter skirt under the water, which corrals plastic and other debris. Every six weeks or so, when it has collected enough trash, the waste will be taken away by ships resembling garbage trucks.
The initial prototype will be used for testing and – if all goes to plan – will be the first of 60 systems launched to tackle floating trash like the Great Pacific Garbage Patch.
The Ocean Cleanup's bold attempt to solve oceanic pollution has attracted praise from environmental and technology companies, including tech star Elon Musk. He tweeted during the launch that the system "looks cool."
Not everyone is jumping on the Ocean Cleanup bandwagon, however. Greenpeace said that while the invention is "laudable," it doesn't deal with the root cause of the issue: widespread oceanic pollution by mankind. "Prevention is far better than cure and in order to tackle the pollution crisis, corporations must stop producing so much plastic," a Greenpeace spokesperson told the Guardian.
Think your friends would be interested? Share this story!
You can share this story on social media: