Palestinians call on intl community to intervene as Israeli court okays Bedouin village demolition
Published time: 6 Sep, 2018 10:32
Edited time: 7 Sep, 2018 09:27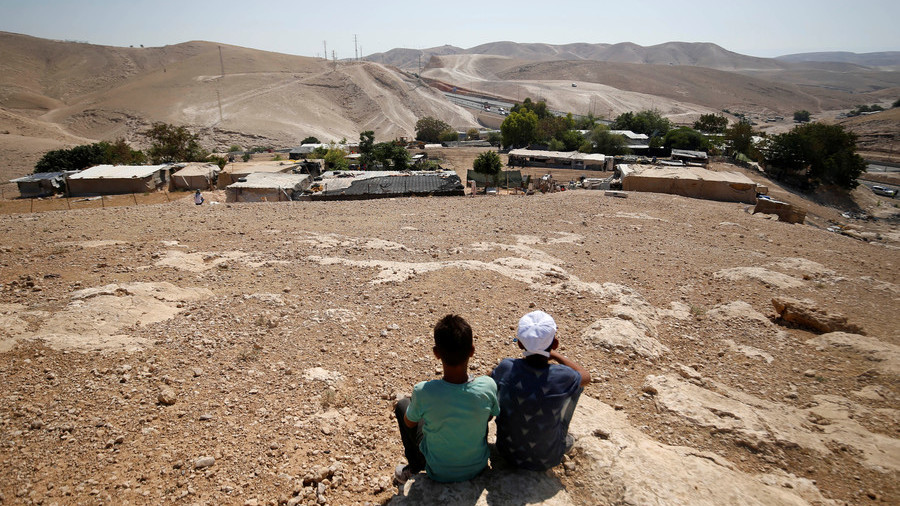 Israel's top court has greenlighted the eviction of a West Bank Bedouin village despite earlier international uproar. The Palestinian authorities have slammed the move, calling on the global community to "intervene immediately."
The Israeli High Court of Justice rejected an appeal from the residents of Khan Al-Ahmar, a Bedouin village east of Jerusalem, effectively greenlighting its demolition on Wednesday. Israel says the village was built without an Israeli permit, but Palestinians say they are impossible to obtain. Tel Aviv's plan to raze the village, which is home to around 180 people, more than half of whom are children, has been met with an avalanche of international condemnation, including from the UN, high-ranking EU officials, and Amnesty International.
However, all this has not deterred Israel from ruling that the village can be bulldozed and the Palestinian government is calling to take action.
"The International community must come out of its ineffective condemnations shell and intervene immediately to defend its human and legal system, which Israel is explicitly penetrating into," it said in a statement as cited by Wafa news agency.
The Palestinian authorities believe that the move is aimed at the implementation of the 'E1 colonial project', which was designed to create "an arc of settlements around East Jerusalem effectively alienating it from the West Bank and killing any hopes for a future contiguous Palestinian State."
It is unclear where the families of the village are going to move as alternative sites suggested by Israel were rejected. One of them is close to a landfill site belonging to the nearby town of Abu Dis, and the other lies in a desert location south-west of Jericho – which is also inappropriate for "a community that has animals and needs grazing," according to the UN.
The UN has repeatedly warned Israel against forced evictions, including in Khan-al-Ahmar, as it may lead to the forcible transfer of the population of an occupied territory, considered illegal under international humanitarian law. Amnesty International said that forced transfers amount to war crimes under a statute of the International Criminal Court.
Think your friends would be interested? Share this story!