Social media users suckered by fake Cassini image ahead of 1yr anniversary (PHOTOS)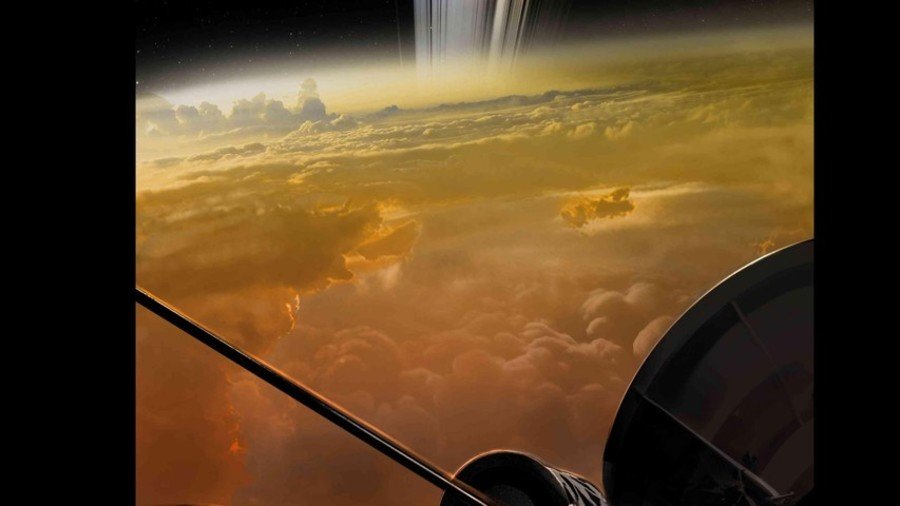 Less than one year after the Cassini mission's fiery descent into Saturn's atmosphere at the end of a highly successful almost 20-year journey, the probe's 'final image' has resurfaced online but, alas, all is not what it seems.
In the final week of August, many social media users began sharing and reposting the apparent 'final image' of the mission on both Reddit and Twitter. The vast majority of the posts even had the exact same text: "Cassini's last image before entering Saturn's atmosphere and burning up."
While the image is undoubtedly impressive, it is not real. It is, in fact, an artist's rendering of what Cassini's final moments may have looked like before it immolated in an atmospheric inferno. The artwork was released by NASA in April 2017, and the real last images taken by the probe can be seen here.
From armchair sleuths to genuine astrophysicists, many Twitter users were quick to cry foul in a bid to prevent the imagined, CGI version overshadowing the genuine last images taken by the Cassini probe.
READ MORE: How Cassini's haunting Grand Finale unlocked Saturn's secrets (VIDEOS)
Cassini was a joint effort between NASA, the European Space Agency (ESA), and the Italian Space Agency (ASI) to study Saturn, its enigmatic rings and the surrounding system of satellites. The mission was extended far beyond its originally projected four years and proved a hugely successful venture, providing major insights into one of our solar system's most intriguing planets.
Launched on October 15, 1997, last contact was made with the probe on September 15, 2017 when it deorbited and burned up in the planet's atmosphere having spent a total of 13 years and 76 days flying above Saturn's skies.
Like this story? Share it with a friend!
You can share this story on social media: