Ancient Greek vase found from tourist's holiday photos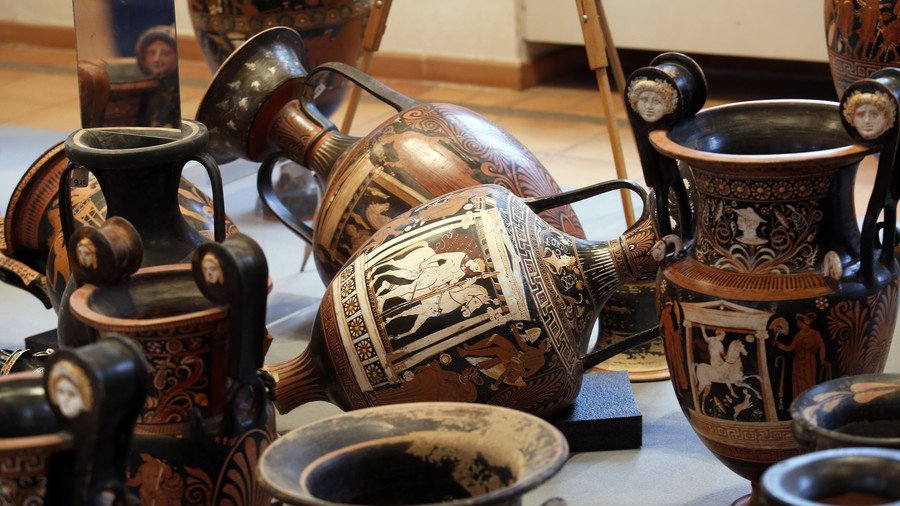 A tourist looking back over his holiday photos accidentally discovered a remarkably intact ancient amphora, estimated to date from the Byzantine period, floating in the sea off a beach on Greece's largest island, Crete.
The man noticed the suspicious object on Thursday afternoon while looking back at pictures he took of the calm sea at the popular Arina beach in Heraklion. Initially, the man feared the bobbing item was something sinister like a floating head, reports local media Neakriti.
READ MORE: Massive pyramid unearthed in ancient Chinese city that hosted human sacrifices (PHOTOS)
He contacted the sea sports facility at the beach, showed them the image and directed them to the spot where he took his holiday snap, and they soon discovered that the strange object was an ancient amphora.
Heraklion port authorities were notified about the discovery and quickly retrieved the ancient vase. Experts estimate the urn came from a Byzantine vessel dating between the 12th and 13th centuries.
Efthimios Doubis, from the Heraklion Port Authority, urged tourists who discover ancient objects to immediately contact authorities and hand them over; "otherwise, if we see them with ancient objects, we have to implement the law of antiquities," Doubis warned.
Under Greek law, all antiquities found on land and at sea are considered the property of the state, with penalties for the illegal export or sale of any such objects.
"If a bather finds an ancient object at sea, he must not move it in any way. It should mark the sea area or the seabed that has found it and notify the competent port authority to intervene and do the appropriate and lawful [thing]," Doubis said.
The object is due to be delivered to the Greek Directorate of Antiquities on Monday.
Think your friends would be interested? Share this story!
You can share this story on social media: