Blasts at Damascus airbase after possible missile strike (PHOTOS, VIDEO)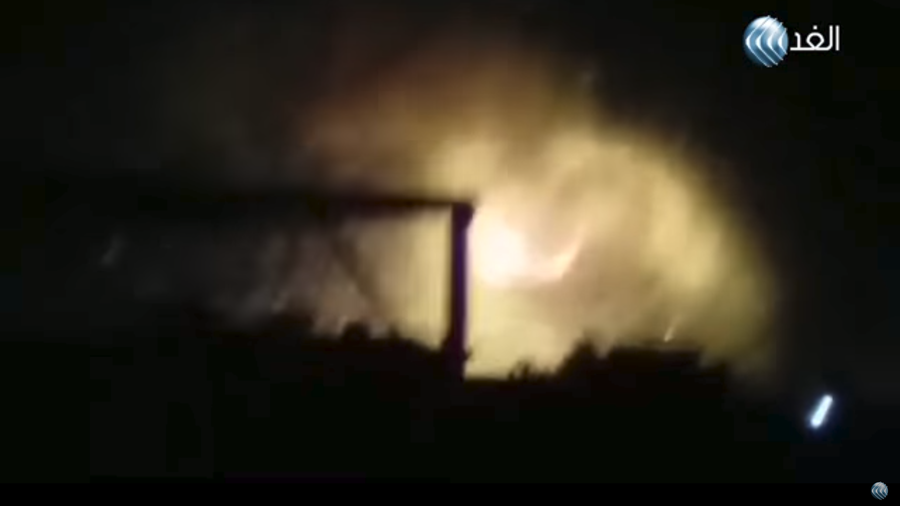 Powerful blasts have rocked a military airport in Damascus, with reports suggesting it was targeted by a missile attack or an airstrike. The military said they were caused by a short circuit at a nearby ammunition depot, however.
UPDATE: Syrian FM confirms blasts at Damascus military airport caused by short circuit
The blasts occurred at the Mazzeh military airport late on Saturday night, according to multiple reporters on the ground. Explosions can be heard in footage from Damascus posted on social media.
According to unnamed officials and intelligence sources cited by multiple media outlets, the airbase was the target of an airstrike or missile attack, and Syrian air defenses responded. Some reports suggested that there had been three explosions, targeting a research center in Jamraya, near Damascus, and a military depot, which suffered a direct hit.
Israel has previously launched strikes against Syrian territories and was accused of targeting the Mazzeh airport, but it has not officially acknowledged it as a target. Israeli missiles reportedly hit the airfield in 2016 and January 2017. After the latter strike, the Syrian military warned Tel Aviv of repercussions for the "flagrant attack." The Israeli government does not comment on the details of its military operations abroad, but it has claimed it had hit Iranian forces on Syrian soil.
However, one military source cited by Syrian state media outlet Sana, has denied that there was an attack, instead saying the explosions were caused by a short circuit at a munitions dump.
The airport is a key Syrian air-force base located in the Mazzeh (Mezzeh) municipality to the southwest of central Damascus.