Fire breaks out on ferry with 1,000+ passengers, prompting massive evacuation (VIDEO)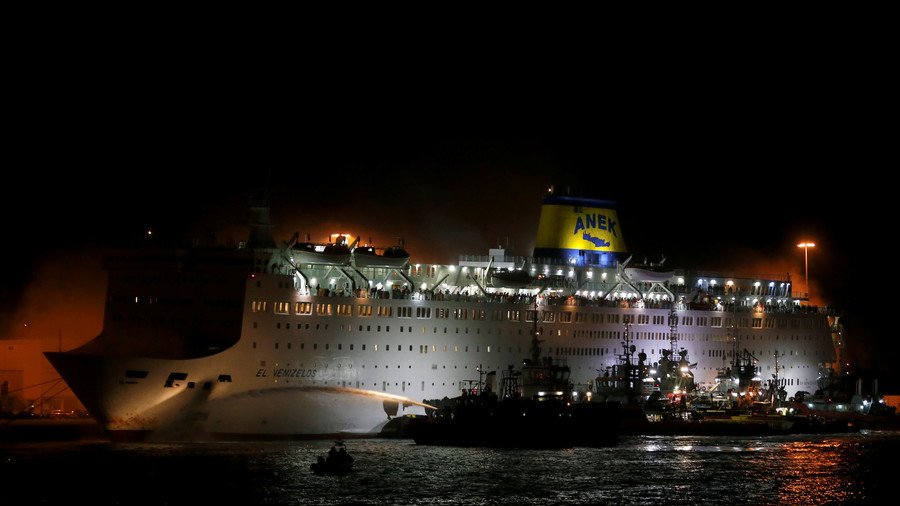 Over a thousand people on a Greek ferry lived through a sea-traveler's worst nightmare – being on board a smoke-filled vessel at sea. They had to flee the cabins and remain on deck as the smoke-covered ferry tried to reach land.
The Greek vessel Eleftherios Venizelos belonging to ANEK Lines was heading to Chania, Crete in the early hours of Wednesday, when it notified the Greek coast guard that a car deck, which had more than 200 vehicles, had caught fire. The distressed ship, which was carrying 875 passengers and 141 crew members, was safely escorted to the mainland port. A Navy frigate, nine boats, and other vessels assisted the rescue operation, according to the coast guard.
Footage emerged online showing crowds at the deck, while smoke is seen somewhere under it. Thick smoke was also seen around the vessel as it was docking at Piraeus, footage from RT's Ruptly video news agency shows. Emergency services used mobile safety stairs to help passengers disembark from the ship. No injuries were reported.
Some passengers said it was very difficult to breathe because of the smoke, according to local media, while one person said a "big noise" was heard before the evacuation was announced.
"It was a huge operation and everything went [according] to plan," Nikos Lagdianos, a spokesman for the coast guard, said as cited by local media.
You can share this story on social media: