Smoke bombs & stones: French and British fishermen stage 'sea battle' in scallop war (VIDEO)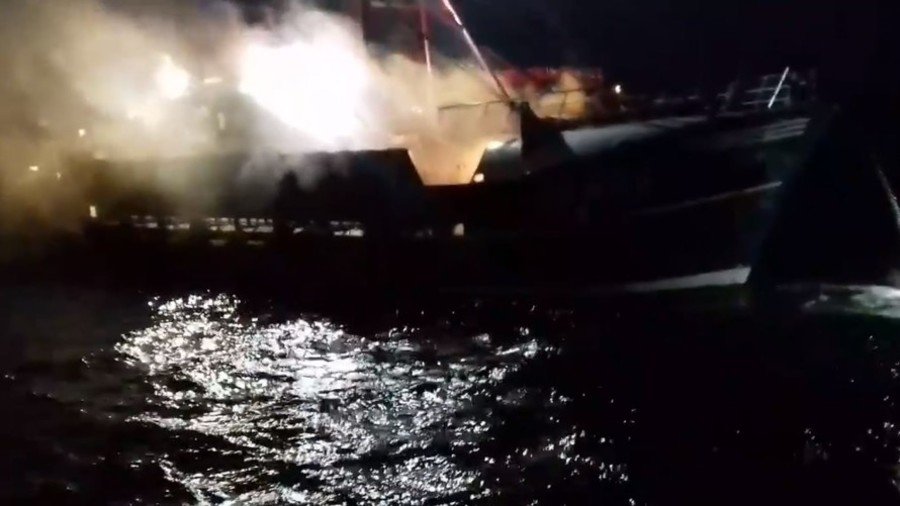 Brexit has recently worsened relations between the UK and France but tensions have now increased after French and British fishermen clashed at sea on Tuesday night over a scallop row.
A 35-strong flotilla of French fishing boats on Tuesday night circled five British ones in a row over scallops. The clashes off the coast of Normandy saw angry French fishermen hurling smoke bombs, stones and insults at the Brits, AFP news agency reports. Footage from local media also shows some boats ramming into others, leaving holes in three vessels.
The clashes happened in the scallop-rich waters of the Baie de Seine area of Normandy, 12 nautical miles out to sea, where the Brits are legally entitled to fish. But as the French are only permitted to fish between October 1 and May 15, they gathered overnight to protest the British "pillaging" of the scallop supply and demanded their competitors face the same restrictions.
"The French went to contact the British to stop them working and they clashed with each other. Apparently there was stone-throwing, but no injuries," said Normandy fishing chief Dimitri Rogoff.
A fishing boat owner from Brixham, however, raised the number of boats confronting the Brits to 40 and said: "One boat got petrol bombed, others had windows smashed.
"I can't believe that someone wasn't killed," he said, the Daily Mail reports.
He defended the Brits' position claiming they were in international waters and therefore entitled to fish in the location where they were ambushed.
The two sides have reached annual agreements over the past five years, but this year the French reportedly had had enough of the Brits' indiscriminate power to deplete the scallop stocks and walked away without a deal.
It comes just a day after news emerged French President Emmanuel Macron rejected PM Theresa May's Chequers blueprint, which would see the UK abiding by EU rules in return for free trade – effectively slashing her hopes of hammering out a deal with the EU by the October deadline.
Macron said that while he respected Brexit, he would not settle for any compromise that would see the EU "unravel."
May's plan, which in June saw two cabinet resignations, would see the UK remaining within the EU single market for goods but not for services. The PM was also recently forced to cave into pressure from France to increase funding to bolster the Calais border as migrants carry on flocking there in hopes of reaching Britain through the Channel Island.
Like this story? Share it with a friend!
You can share this story on social media: