They have to go back: Hungary's Orban calls for deporting illegal migrants to Africa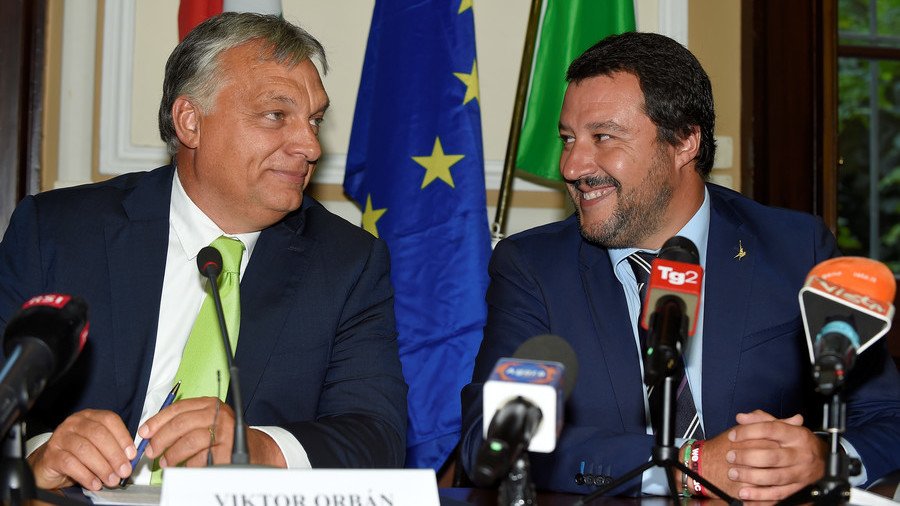 Hungarian Prime Minister Viktor Orban has said that illegal immigrants in Italy must be deported back to Africa instead of relocated to other places in Europe and that Hungary is willing to help with the process.
Orban was speaking during a press conference following a meeting with Italian Interior Minister Matteo Salvini, who has come under fire in recent days for refusing to allow more than 100 African migrants to disembark from a boat docked in Catania.
Asked whether migrants should be relocated from Italy to other EU countries, Orban said that they should be sent back home.
"We should send them back instead of relocating them," he said, adding that anything else would mean "the human smugglers have won" and "immigrants would keep coming in further waves".
Orban said that illegal migration was the most important issue facing the European Union and said that Hungary was "attacked" by Brussels because the country had shown that it was possible that migrants could be stopped on land, referring to the fence built at Hungary's border with Serbia and Croatia.
It was possible, Orban said, for Salvini to prove that migrants could "also be stopped at sea." He called on Salvini not to "retreat" and promised assistance from Hungary to help Italy protect its borders. "Europe's security hinges on his [Salvini's] success," he said.
Orban said that Brussels' policies on migration, particularly those driven from Germany, France and Spain, were aimed at "better management" of the influx of migrants, while the Visegrad group - which is made up of Hungary, Poland, Slovakia and the Czech Republic - wants to stop illegal migration fully.
Earlier in the day, other top officials from Italy's ruling coalition said that EU funds to Hungary should be stopped because it had not responded to Italy's "request for help" in relocating migrants.
#Orban: I told #Salvini that migrants who arrived in Europe should be taken back. Brussels elite says it's not possible but I'm convinced we only need political will. I wish much success and are thankful for your support. #OrbanSalvini

— Mariann Őry (@otmarianna) August 28, 2018
Salvini described the meeting with Orban as one in a "long series of meetings to change the destiny of Europe" and said the two countries were "close to a historic breakthrough on a continental level".
Both Orban and Salvini have angered Brussels with their anti-migrant rhetoric and refusal to cooperate with EU demands. Orban has referred to migrants in Europe as "Muslim invaders" who he said are not true refugees, while Salvini has said he is prepared to be arrested in his defence of Italy's borders.
You can share this story on social media: