Height of resistance? Palestinian girl scales Hebron fence to reach home (VIDEO)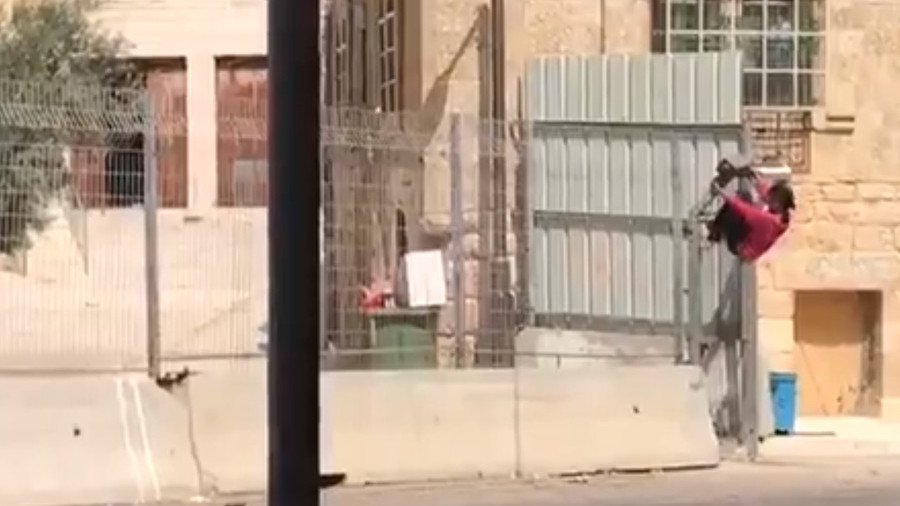 Video of a young Palestinian girl climbing a closed security gate to get home has sparked anger on social media and highlighted the daily inconvenience for Palestinians living under Israeli control in Hebron.
The video, shared by Israeli activist and Breaking the Silence NGO spokesperson Achiya Schatz, depicts the extreme lengths a Palestinian child goes to to get back to her house. The girl is seen struggling to climb a closed gate in Hebron, the top section of which is angled back towards her. The video has been viewed over 13,000 times since being posted.
ילדה מנסה לחזור הביתה, ממש כמו הילדה שלכם, רק שהיא נולדה בחברון. אז הבית שלה הוקף לאחרונה גדר. והיום צהל גם נעל את השער והותיר את הילדים לטפס הביתה. אל דאגה, זה לא בגלל שהפכנו אותם לפחות מבני אדם, זה בגלל ביטחון pic.twitter.com/dSDHGTQGO3

— Achiya Schatz (@schatzah) August 27, 2018
"A girl tries to go home, just like your child, only she was born in Hebron," Schatz wrote, adding, "Don't worry, it's not because we've made them less than humans, it's about security."
While the extreme route home appears shocking, this is a regular occurrence for Hebron's Palestinian residents.
In 2017, Israeli forces extended a fence it built at the entrance to the Gheith and A-Salaimeh neighbourhoods in Hebron. It has a single gate, which is meant to remain open between the hours of 6am and 10pm, but is often closed arbitrarily. Those who wish to get to their homes when the gate is closed have to take a long route through a checkpoint or risk scaling the fence.
In May, similar footage was released by Israeli human rights group B'tselem, which showed school children arriving to find their route home was blocked by a closed gate. Women looked on from inside the fence, urging the Israeli soldiers to open the gate, as the children eventually scaled it. The gate was closed for five days, which an IDF spokesperson said was in response to stones and an explosive device being thrown.
The fence is built along A-Salaimeh street and divides it in two, with the far larger, paved side off limits to Palestinians, who are only permitted to travel on a small section that remains unpaved.
Like this story? Share it with a friend!
You can share this story on social media: