Popular French minister blindsides Macron with surprise resignation during live radio interview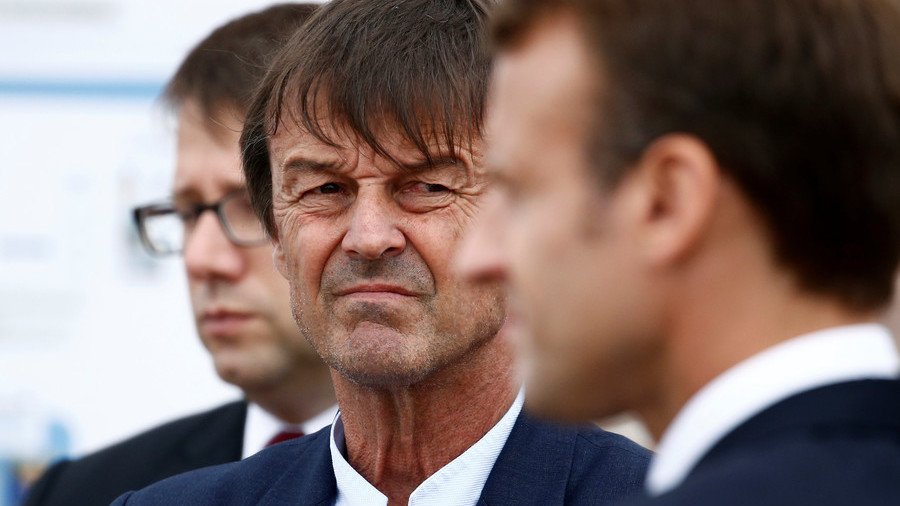 French Environment Minister Nicolas Hulot, the most popular member of President Emmanuel Macron's cabinet, announced he's stepping down during a live interview, saying he's frustrated with a lack of progress on green issues.
Hulot, a TV celebrity and veteran environmental activist, joined Macron's government in May last year and has since struggled to fit in with other members of the cabinet and its general policies. Speaking to France Inter radio on Tuesday morning, he said last night he decided to resign, citing an "accumulation of disappointments" with the government's failure to stand up to lobbying and give a priority to climate change, threats to biodiversity and other environmental issues that urgently needed to be addressed.
The minister said he didn't inform either the French president or Prime Minister Edouard Philippe of his decision prior to the announcement. Hulot said Macron had his respect and friendship, but the decision to step down was up to him.
Responding to the news, government spokesman Benjamin Griveaux said the decision was regrettable, but that the government would recover.
"I don't understand why he is stepping down when we had many successes in the first year that are to his credit," Griveaux told BFM Television. "He didn't win all his battles but that's the way it goes for ministers."
The resignation comes as Macron struggles to push his approval rating up amid slowing economic growth and in the wake of a political scandal over his security aide, who was filmed beating protesters. The relaxing of hunting regulations - apparently meant to boost Macron's popularity among rural voters – was one of the many grievances Hulot previously raised.
Think your friends would be interested? Share this story!
You can share this story on social media: