Monstrous giant squid discovered on New Zealand beach (PHOTOS)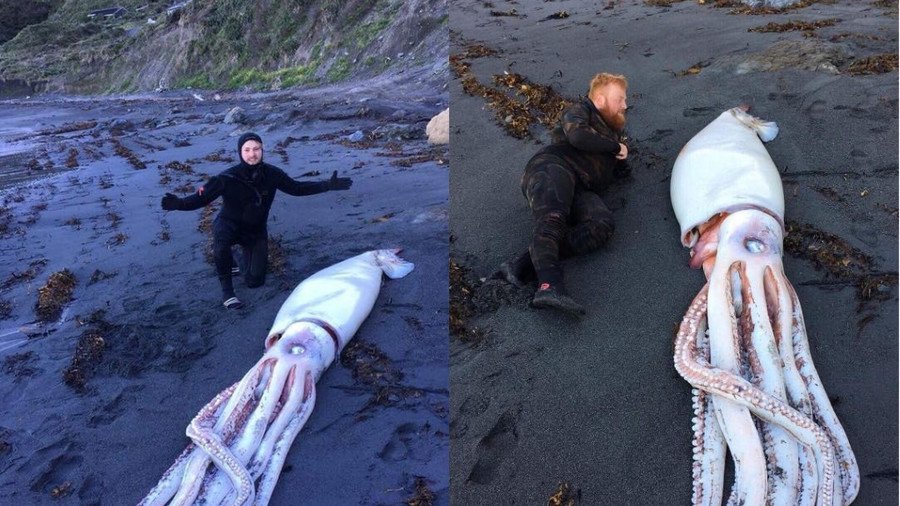 A monster-like 4.2 meter-long (13ft) giant squid – which brings to mind the mysterious kraken – has been discovered on a Wellington beach by shocked New Zealand brothers out for a morning dive.
Three brothers Daniel, Jack, and Matthew Aplin discovered the giant squid on the shore Sunday morning, after venturing to a part of the beach only accessible by a four-wheel drive.
"My brother said 'what's that over there?' and pointed it out. It was right next to the track so we pulled over and we were like: 'It's a big squid,'" said Daniel Aplin to NewstalkZB.
The nightmarish squid resembles the legendary cephalopod-like sea monster that is rumoured to dwell off the coasts of Norway and Greenland. It's not known what caused the huge animal to wash ashore – one of the brothers said the squid didn't appear to be injured apart from a small scratch on the top of its head.
READ MORE: 'Is that Falkor?' Hideous sea monster washes up on Maine shore (PHOTOS)
The brothers called the National Institute of Water and Atmospheric Research (NIWA) who immediately came to collect the squid.
The Department of Conservation previously said giant squids like this one actually wash up on the beach relatively regularly. "It's not common but it's not rare," said a spokesperson for the department.
Giant squids have been known to grow as long as 13 meters, almost eight times the size of an average squid. They're only superseded by the colossal squid, which can grow as big as 14 meters and is usually hunted by sperm whales.
Like this story? Share it with a friend!
You can share this story on social media: