Seafood diplomacy? Erdogan invites 'dearest friend' Putin to meet at fish restaurant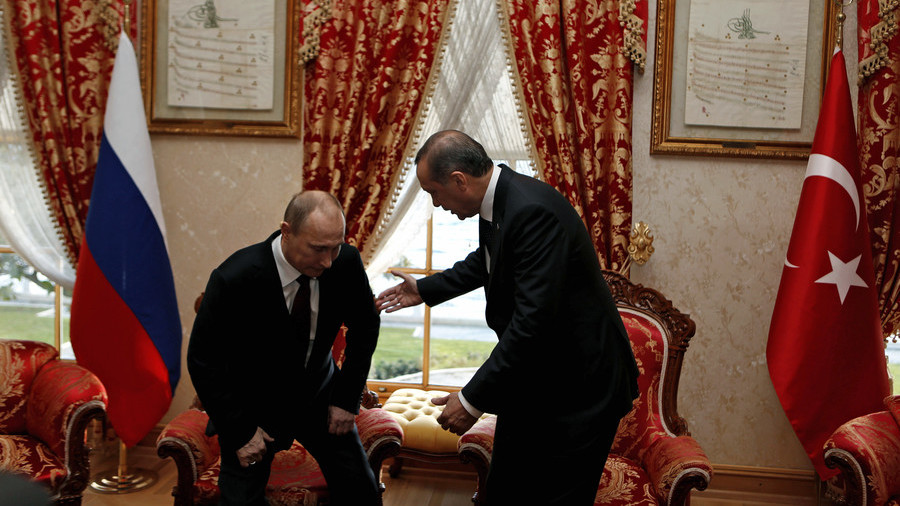 Russia's Vladimir Putin and Turkey's Recep Tayyip Erdogan may soon be discussing the S-400 anti-air systems deal while eating fish or lobsters, as Putin has been reminded of an arrangement to meet at a certain Istanbul restaurant.
An invitation from Erdogan, delivered to Putin by Turkish Foreign Minister Mevlut Çavusoglu on Friday, said: "Your dearest friend, Mr. Erdogan, has asked to convene his greetings and best wishes, he is hoping for your visit to Istanbul in the near future. You have an arrangement to go to a fish restaurant." Cavusoglu was addressing the Russian leader at a high-profile meeting in Moscow.
The 'fish restaurant' story goes back all the way to the BRICS summit in July. Back then Putin reminded his Turkish counterpart that once Erdogan invited him to dine at a fish restaurant. When Erdogan stressed that the invitation still stands, the Russian president pointed out that the issue with meat exports to Turkey must first be sorted out.
It seems Erdogan took the hint: In late July Russia started meat exports to Turkey – so now he may actually deliver on the fish restaurant meeting too.
Relations between Russia and Turkey have been growing closer, which has seemingly angered Ankara's longstanding ally, the US. Ankara and Washington ties are on downward spiral as they lock horns over Turkey's decision to buy –ahead-of-schedule, even– Russian S-400 missile systems. Erdogan's government is also adamant on pushing ahead with the purchase of American F-35 jets, which US lawmakers are trying to block, due to Ankara's S-400 deal.
Earlier this week Russian arms exporter Rosoboronexport revealed that Turkey will receive its first batch of S-400 air defense systems next year. Following the statement the State Department's Heather Nauert noted that the US had already made it "very clear what could trigger sanctions for other countries and entities around the world," if they go ahead with buying the Russian systems.
If you like this story, share it with a friend!
You can share this story on social media: