300 migrants storm Spanish exclave of Ceuta, attack police with acid (VIDEO)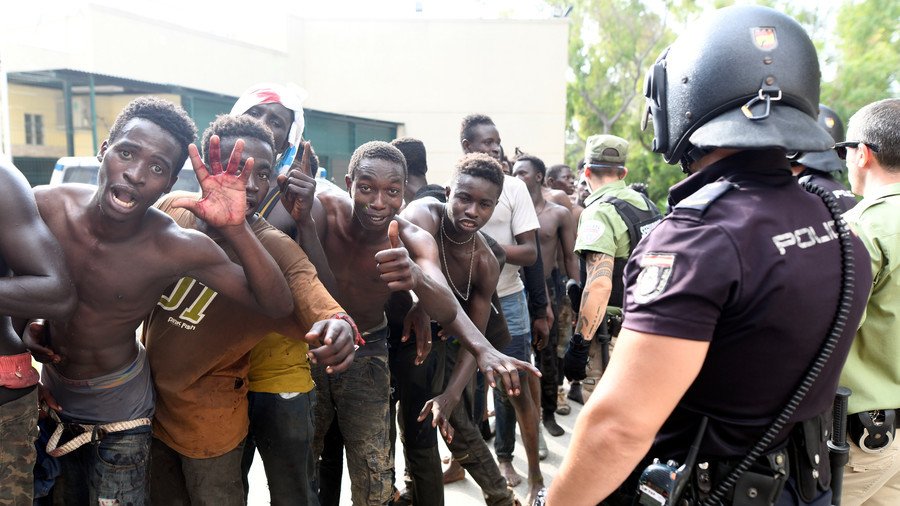 Seven police officers suffered acid and lime burns as more than 100 sub-Saharan migrants jumped the border fence that separates Morocco from Spain's north African exclave of Ceuta.
Approximately 300 people tried to enter European territory by storming the fence on Tuesday night. Press reports state that as many as 200 were successful, however officials in the autonomous city say they have only accounted for 115 new arrivals
The migrants cut part of the, 8.4km-long (5.2 mile) fence and used battery acid, quicklime and excrement to attack police officers, El Pais reports. The police revealed on Twitter that seven members of the force suffered injuries during the incident.
Because of vacations, the border was manned by fewer than 10 agents when the migrants chose to storm the fence. Numbers were also reduced because it was the first day of the Eid al-Adha Muslim festival. The Unified Association of the Civil Guard (AUGC) police representative group has long been critical of the shortage of officers manning the border.
Un abrazo con nuestro deseo de pronta recuperación a los 7 guardias civiles heridos por quemaduras de ácido y cal cuando intentaban evitar un intento de entrada de personas a través del vallado del perímetro fronterizo de #Ceutapic.twitter.com/dLBuYdlVei

— Guardia Civil 🇪🇸 (@guardiacivil) August 22, 2018
Once inside the fence the migrants raced through the streets in a bid to reach the Temporary Immigrant Stay Center (CETI). The Red Cross treated the migrants who suffered cuts and bruises when they arrived there.
Local news outlet El Faro de Ceuta published video footage of the migrants running around in the city after breaching the border. They can be heard shouting "Boza! Boza!", which means "victory" in, the west African language of Fula.
READ MORE: 700+ migrants storm Spanish exclave of Ceuta, some use homemade 'flamethrowers' (VIDEO)
The Ceuta border fence is regularly breached by large groups of migrants looking to get into Europe. In late July, more than 700 people stormed the fence and more than 600 of them managed to cross the barrier in what Spanish police described as one of "the most violent and numerous entries" of migrants in recent months.
Subscribe to RT newsletter to get stories the mainstream media won't tell you.
You can share this story on social media: