Attack on police station in Catalonia investigated as a terrorist act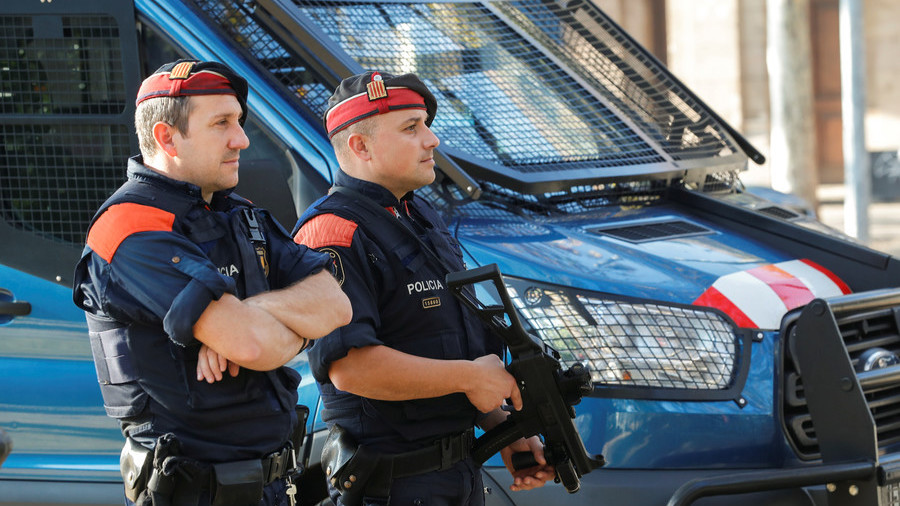 Catalonia police are treating this morning's attack on a police station in Barcelona as a terrorist act. A knife-wielding man attempted to enter the site reportedly shouting "Allahu Akbar" and was shot by officers.
The police said the attacker tried to enter the Cornella police station "with the aim to attack" the officers shortly before 6am local time (4am GMT) on Monday. During a news conference later in the day, law enforcement clarified that the incident is being investigated as a "terrorist attack".
A man armed with knife has acceded this morning to Cornellà's police station with the aim to attack the Police officers. The aggressor has been shot down. The facts happened a few minuts before 6 a.m.

— Mossos (@mossos) August 20, 2018
Local media report that the perpetrator was shouting "Allahu Akbar" (God is great) at the moment of the attack.
The attacker was a 29-year-old man of Algerian origin, La Vanguardia reported. State broadcaster RTVE added that he was a resident of Cornella with Spanish identity documents.
The police station remains sealed and no casualties among the officers have been reported. Later in the day, Catalonia police said they are investigating the incident to clarify "the attack motivation."
An investigation has been launched following the events that occurred this morning in our Police Station in Cornellà, in order to clarify the reasons for the attack

— Mossos (@mossos) August 20, 2018
The incident occurred just three days after the first anniversary of the double terrorist attacks in Barcelona and nearby Cambrils. On August 17, 2017, a rented van ploughed through crowds on the major boulevard Las Ramblas in Barcelona, killing more than a dozen people and injuring more than 100. Just hours later that day in Cambrils, five other men drove their car into pedestrians and went on a stabbing spree, leaving one woman dead and several injured.
Think your friends would be interested? Share this story!