Magnitude 6.3 earthquake hits Indonesia's Lombok island (PHOTOS)
Published time: 19 Aug, 2018 04:44
Edited time: 19 Aug, 2018 11:24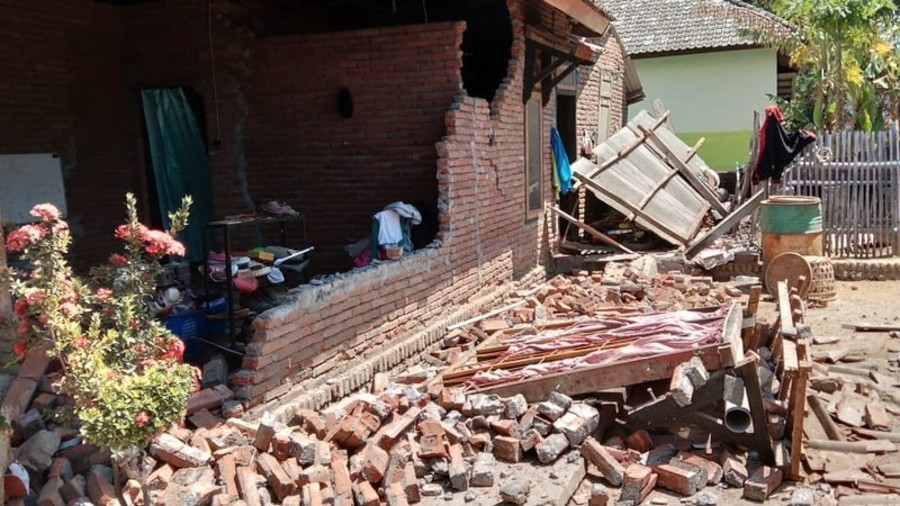 A strong magnitude 6.3 earthquake has struck Indonesia's Lombok island. The quake's epicenter is located at a shallow depth of 7.9km. The island has been hit by a series of quakes recently, killing hundreds of people.
The quake struck 64 km (40 miles) from the city of Mataram with a population of 400,000 people, the United States Geological Survey (USGS) reports. The tremor hit Lombok's northern shore, some 6km (four miles) from the Mount Rinjani volcano.
One person received a light injury and two more lost consciousness during the quake, the spokesman for the National Disaster Management Authority (BNPB) tweeted, adding that first responders are still collecting data on the ground.
Dampak gempa susulan Lombok (6.5 SR) 19/8/2018: 1 luka ringan, 2 orang pingsan dan beberapa rumah mengalami kerusakan di Lombok Timur. Aparat Babinsa TNI terus melakukan pendataan dan membantu masyarakat korban gempa. Daerah yang terdampak parah ada di Lombok Timur. pic.twitter.com/VUU31zBQng

— Sutopo Purwo Nugroho (@Sutopo_PN) 19 августа 2018 г.
Several houses have been damaged, with most of the destruction taking place in the East Lombok area. The earthquake also led to rockslides at Pergasingan Hill.
Batu-batu berjatuhan menuruni lereng perbukitan dan Gunung Rinjani akibat guncangan gempa 6,5 SR di Kecamatan Sembalun Kab. Lombok Timur. Tidak ada korban jiwa. Beberapa rumah rusak. pic.twitter.com/hhqkVyRsK3

— Sutopo Purwo Nugroho (@Sutopo_PN) 19 августа 2018 г.
In early August, Lombok suffered a magnitude 6.9 quake, followed by over 300 aftershocks. A total of at least 436 people have been killed as the tremors leveled buildings. That quake damaged tens of thousands of homes and left several hundred thousand people displaced. It also initially triggered a tsunami warning that was later called off.
READ MORE: VIDEOS reveal city in chaos as Lombok crumbles under another earthquake
Indonesia is located in a seismically active are and is frequently shaken by earthquakes. In 2004 it was hit by one of the deadliest quakes in recent history, a magnitude 9.1-9.3 event that triggered tsunami waves up to 30 meters tall. Over 220,000 people were killed or left missing then.
Subscribe to RT newsletter to get stories the mainstream media won't tell you.