Big fish: French trawler nets 1-ton WWII bomb that can explode with one wrong move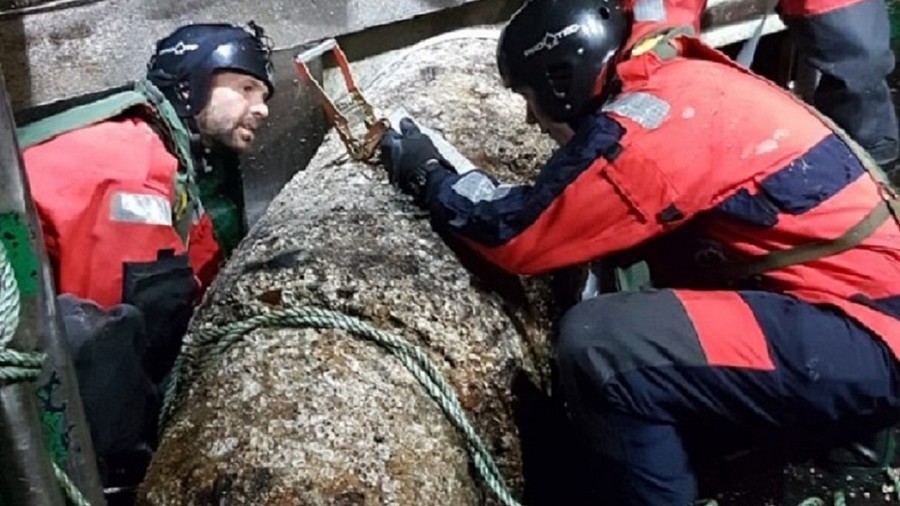 French fishermen reeled in a big catch off the Normandy coast, but it turned out a bit more explosive than they anticipated. The trawler netted a WWII bomb with nearly a ton of explosives – and one movement could trigger a blast!
The trawler Le Retour was fishing two nautical miles (4km) off the coast of Grandcamp-Maisy commune in the English Channel on Friday morning, when it picked up an unusual 'fish'. The haul was a German WWII bomb which contained 860 kilos of explosives, the region's maritime authorities said.
The fishermen immediately alerted the officials about the dangerous discovery. A marine helicopter and five mine clearance divers were deployed within two hours. The Le Retour crew was promptly evacuated.
Despite being on the seabed for over 70 years, the bomb still "poses danger," as "any simple movement, especially aboard the trawler," can lead to an explosion, the authorities said. The divers used straps and managed to free the device from the net. They successfully returned the bomb to the seabed, noting its geolocation. It will be defused by experts next week.
The incident happened in the area where Operation Neptune, a series of landing operations of the Allied invasion of Normandy, took place back in June 1944. The campaign led to the liberation of Nazi-occupied northwestern Europe.
Think your friends would be interested? Share this story!