In a haunting 360 VIDEO, a father relives his daughter's death amid ruins of ghost city Mosul
Published time: 18 Aug, 2018 04:39
Edited time: 18 Aug, 2018 12:27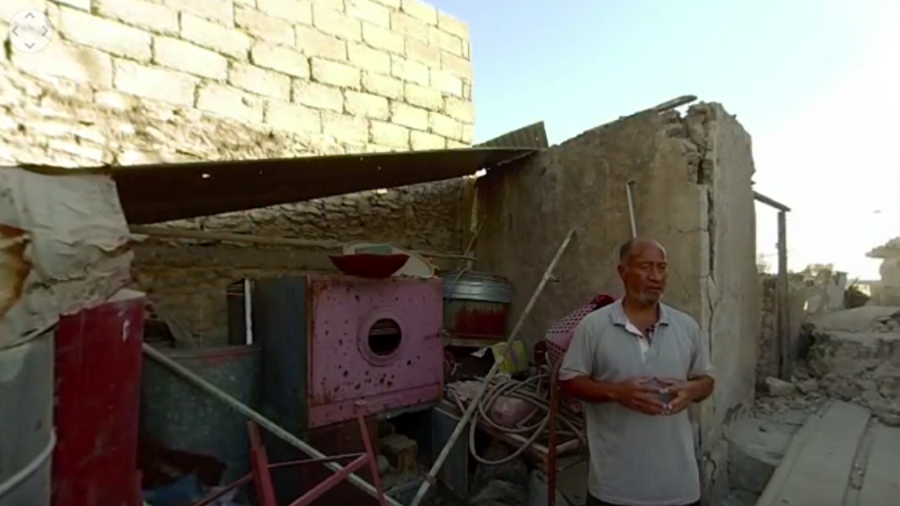 Panoramic footage from the ruined old city of Mosul, Iraq lets you take a walk through the husk of what was once a bustling economic center, and later a stronghold for ISIS terrorists. Now, what it resembles most is a cemetery.
Former Old Town resident Mohammed Qadir walks through the decrepit shell of his former home, detailing the horrors witnessed there to a Ruptly news crew. Holding nothing back, Qadir launches into his sad tale: "If you want to know, this is the story of how my family and I lived under ISIS occupation. This is the house, the home we used to live in... I lost a child, a daughter aged 17 years old."
His home is located only a stone's throw from the al-Nuri mosque where head of the Islamic State (IS, formerly ISIS), Abu Bakr al Baghdadi preached his only public sermon in July 2014.


Standing among the ruins and scattered household items that used to make up his home, Qadir recounts the day that home was destroyed – and his daughter Zubaida was killed in a shelling. He now lives in a different place with his remaining family, but in the room where Zubaida used to sleep, they placed a shaggy teddy bear to commemorate her.
On camera, Qadir recalls how he watched his daughter Zubaida perish and, gesturing to marks on the walls where her flesh was splattered, details the gruesome circumstances of her death.
"She was hit by a mortar shell that struck her legs," he explains. "Her flesh was on the wall, where the black spots are, and the rest is shrapnel... She was immediately thrown from this area and into the yard." The family administered first aid, but ultimately had to take the 17-year-old girl to the hospital which was run by Islamic State terrorists.
Qadir was too distressed to take Zubaida himself, so his son took over – but the hospital refused to treat her, saying "they do not admit such cases." Qadir's son was given two options: take Zubaida home to die, or "we give her a shot to end her life." Proper care was reserved for IS fighters.
According to UNESCO, 20,000 buildings were destroyed in the fighting. UNESCO described Mosul's destruction as "unmatched since the Second World War."
A 2017 Amnesty International report details how the group calling itself the Islamic State (IS) moved civilians and trapped them in danger zones during the battle in Mosul. Amnesty International also found that Iraqi and coalition forces failed to take reasonable steps to protect civilian lives, and used live gunfire in densely populated areas.
Subscribe to RT newsletter to get stories the mainstream media won't tell you.