German broadcaster publishes map showing Crimea as part of Russia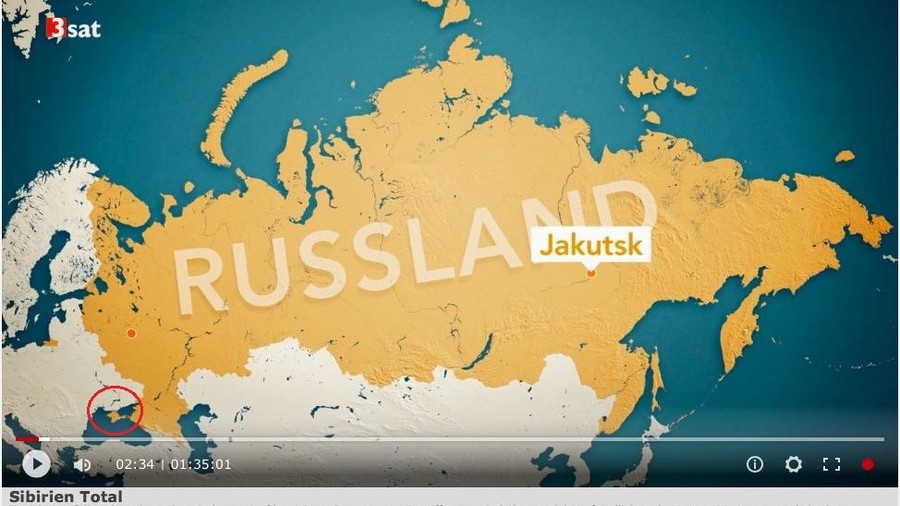 A German TV channel has broadcast a documentary showing Crimea as part of Russia, despite German Chancellor Angela Merkel being a vocal critic of the region's reunification with Russia.
The documentary "Siberia Total," aired on German broadcaster 3sat on Wednesday, included a map which showed Crimea attached to Russia and of the same color, indicating that they are the same country. The map of Russia, including Crimea, can be seen at minutes 2.30 and 15.05.
The film follows German documentary fillmmaker Dave D. Leins as he travels to the east of Russia.
The decision to map the Crimean peninsula as Russian territory (whether it was done on purpose or not) follows German Chancellor Angela Merkel speaking out against the reunification, saying at the time that Moscow would not "get away" with "annexing" Crimea. She was also a backer of European sanctions imposed on Russia over the matter.
Merkel also said at the time that "every result over 90 percent in this world has to be viewed with skepticism...with the exception of my election to the party chairmanship, of course," referring to the fact that 96.77 percent of the Crimean population voted to be reunited with Russia in a referendum held in March, 2014.
Meanwhile, Bloomberg took a neutral stance in June when it showed Crimea as neither Russian nor Ukrainian. The map prompted a response from the Ukrainian Embassy in the US, which tweeted that Bloomberg shouldn't "play into Russian aggressive games and propaganda."
Think your friends would be interested? Share this story!