VIDEO from above shows scale of deadly Genoa bridge collapse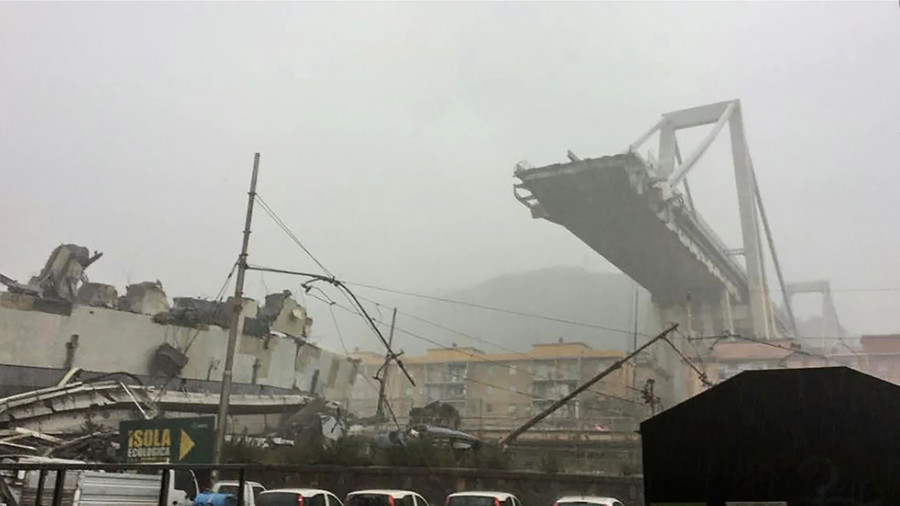 Aerial footage from the scene of Tuesday morning's tragic bridge collapse in Genoa shows the devastation left behind after tons of concrete, tarmac and steel fell onto the ground below. Dozens are believed to have been killed.
The Italian government has branded the accident "an immense tragedy." When part of the bridge collapsed, debris crashed into apartment buildings located immediately below.
The Genoa ambulance service says there are dozens dead following the incident.
READ MORE: 'Dozens dead' as motorway bridge collapses near Genoa, Italy (VIDEO, PHOTOS)
Footage taken at the site shows ambulance and rescue crews sifting through debris and crushed mettle in the hope of finding survivors. One victim can be seen placed on a stretcher.
The collapsed portion of the bridge can be seen above a railway line with crushed vehicles spread out several meters either side of the track - alongside rubble and metal from the bridge.
A commercial goods truck and at least two cars can be seen heavily damaged in the video, with the roof of one car caved in.
Think your friends would be interested? Share this story!