Japanese ex-porn star enrages Chinese pioneers by donning their iconic red scarf (VIDEO)
Published time: 10 Aug, 2018 12:45
Edited time: 17 Aug, 2018 12:42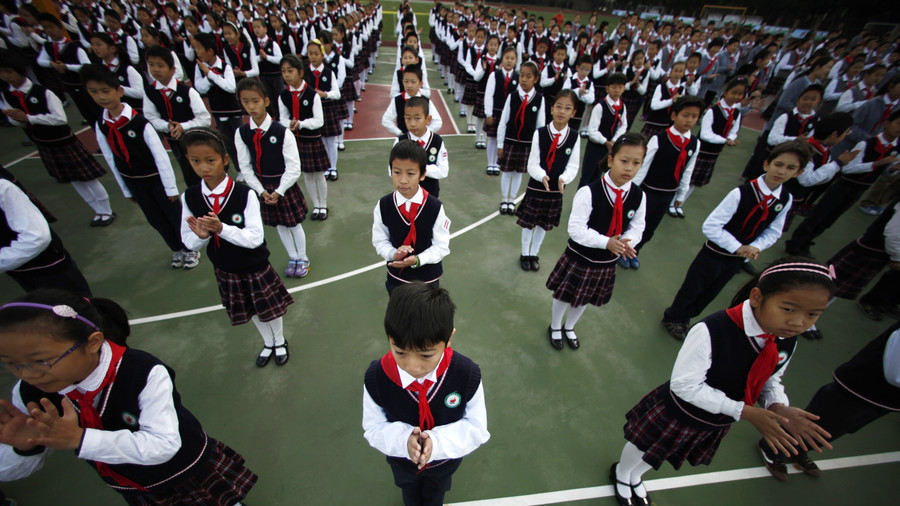 A Japanese former porn star has drawn the ire of Chinese pioneers and netizens after she turned up at a charity event in a red scarf – a symbol worn by Chinese Young Pioneers to honor revolutionary martyrs.
The row started when Sola Aoi, an adult-video-actress-turned-media-personality, appeared at the event organized by Shanghai-based Baizhentang company, which sells male sex products, wearing the now-highly-discussed scarf. The event, organized in early August, was aimed at raising money for poor students and impoverished children in the Dehong Prefecture in southwestern China.
Sola Aoi's choice of wardrobe at the event was criticised by a number of people on social media who said that wearing the scarf by the Japanese ex-porn star was inappropriate and insulting.
Moreover, the 'pioneer-ish' style of Sola Aoi angered Young Pioneers of China whose members wear the emblematic neckerchief to remember blood and the "struggle of the revolutionary martyrs." In a statement released earlier this week the group condemned the Baizhentang company for ignoring the spirit of the red scarf. It also threatened the firm with legal action for breaking the newly-adopted Heroes and Martyrs Protection Law.
According to Xinhua review, the legislation that came into force in May this year promotes"patriotism and socialist core values" and prohibits "activities that defame heroes and martyrs, or to distort and diminish their deeds."
Following criticism from the Chinese youth group, the company apologized for the "improper" use of the red scarf and "damage to Chinese people's feelings." Sola Aoi, however, hasn't made a statement on the incident yet. Her stage name (which is also pronounced Sora Aoi) is literally translated as Blue Sky. She gained popularity in her home country and abroad, especially in China, as an adult video actress. The 34 year old set off a frenzy in China despite being banned from appearing on TV. Her account on the Chinese microblogging website Weibo gathered more than 18 million followers – however, it seems to have been blocked as of Friday. It's not yet clear if the block is linked to the 'red scarf' appearance or just a malfunction.
Think your friends would be interested? Share this story!