Saudi-led forces say strike that killed Yemeni kids was 'legitimate,' ICRC seeks civilian protection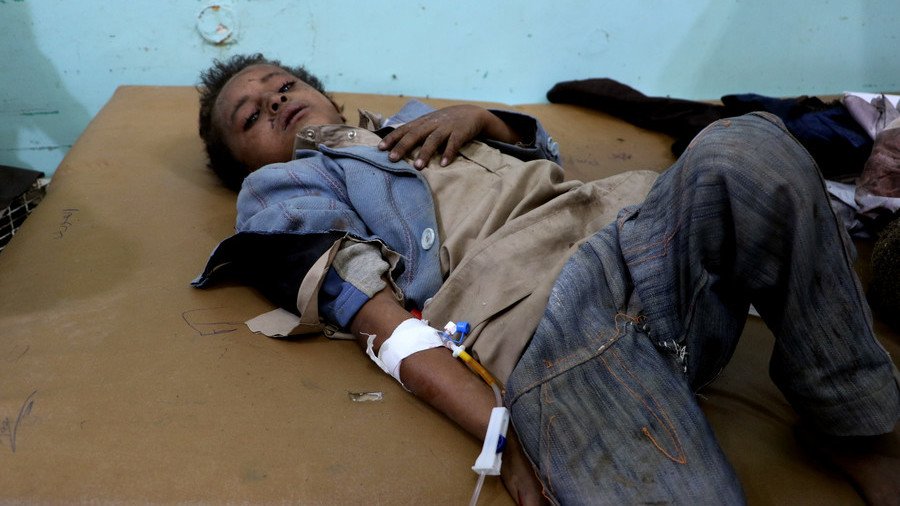 The Saudi-led coalition has accused Houthi rebels in Yemen of using children as human shields, saying their airstrikes in Saada constituted 'legitimate action.' The Red Cross has called for protection of civilians during conflict.
In a statement released by state news agency SPA, the Saudi-led coalition claimed its airstrikes in Saada were aimed at missile launchers used to attack Jiza, a city in southern Saudi Arabia.
Following an attack this morning on a bus driving children in Dahyan Market, northern Sa'ada, @ICRC_yemen- supported hospital has received dozens of dead and wounded. Under international humanitarian law, civilians must be protected during conflict. pic.twitter.com/x39NVB8G4p

— ICRC Yemen (@ICRC_ye) August 9, 2018
"Today's attack in Saada was a legitimate military operation… it conformed to international and humanitarian laws," said coalition spokesman Colonel Turki al-Malki in the statement.
READ MORE: Dozens of children slaughtered and injured in coalition airstrike on bus in northern Yemen
The statement also accused the Iranian-aligned Houthi rebels of using children as human shields after dozens were killed in the Dahyan Market in northern Saada on Thursday.
The International Committee of the Red Cross, citing local officials, announced that a total of 50 people died in the attack and 77 were injured, most of whom were children.
I am watching with horror the images and videos coming from Saada in #Yemen and I have no words. How was this a military target?Why are children being killed?Is anyone listening out there?

— Meritxell Relano (@RelanoMeritxell) August 9, 2018
The UN children's agency UNICEF said it was "very concerned with the initial reports of children being killed" with UNICEF's resident representative in Yemen, Meritxell Relano saying that he is witnessing the "horror the images and videos coming from Saada… Why are children being killed?"
'Brought to the brink of collapse'
The Saada attack took place less than a week after an airstrike launched by the Saudi-led coalition killed dozens near a hospital in the city of Hodeidah. Mirella Hodeib from the ICRC told RT that the group is calling for the protection of civilian infrastructure.
"The humanitarian situation in the country is catastrophic, the population has been brought to the brink of collapse. The movement of the population is growing because of [the ongoing] conflicts and hostilities," Hodeib admitted. She noted that the Yemeni healthcare system has been "decimated," while infrastructure is "weakened" and "would collapse across the country."
According to the ICRC representative, humanitarian organizations can neither feed millions of Yemenis, nor provide access to healthcare for them. "Twenty million Yemeni people are in need of [humanitarian] aid. The ICRC has always called upon all parties of the conflict to [find] a political solution… in order to curb worsening humanitarian conditions," she added.
The Saudi-led coalition has been waging a brutal military campaign in Yemen since March 2015, in an attempt to restore president Hadi to power. Three years of Saudi-led bombardment and a blockade of Yemen has led to a catastrophic situation in the country, with 22 million people, or 80 percent of the population, in need of humanitarian aid, while more than half of the country is left without basic medical services. Human rights organisations have been accusing the coalition of indiscriminate shelling of civilians and infrastructure.
The war in Yemen has killed almost 10,000 people in three years, and is what the United Nations has labelled as the world's worst humanitarian crisis.
Think your friends would be interested? Share this story!
You can share this story on social media: