Saudi Arabia beheads & crucifies convicted criminal in Mecca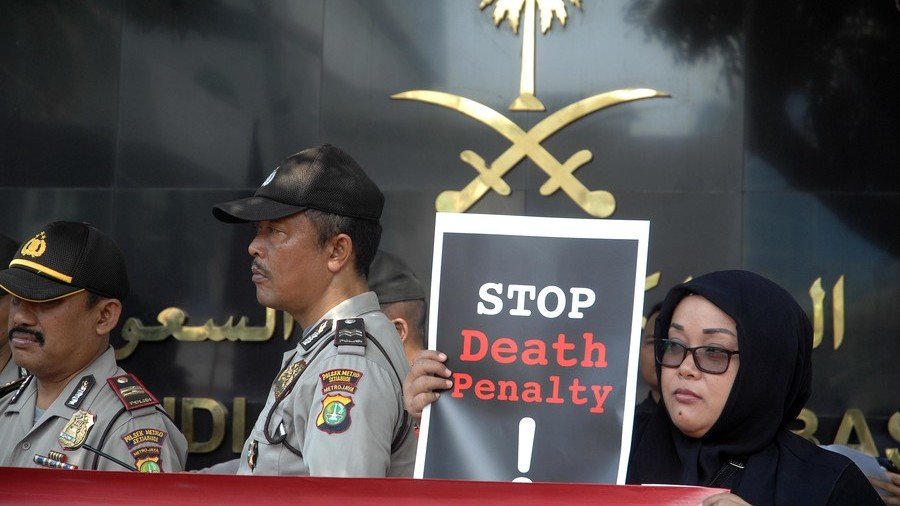 An execution in Saudi Arabia has again caused a media stir after a man was beheaded and crucified in Mecca for murder, robbery and rape. It comes amid a human rights spat between the ultra-conservative kingdom and Canada.
The Myanmar man was convicted of killing a woman and other crimes, the state-run Saudi Press Agency said on Wednesday. The perpetrator, identified as Elias Abulkalaam Jamaleddeen, was found guilty of entering the home of a woman and stabbing her to death. He was also accused of robbing the woman's home and another home, as well as "attempted rape and stealing ammunition and firearms used in his crimes," the statement read.
The punishment was carried out in the Muslim holy city of Mecca. The man was beheaded and then his body was put on display on a cross.
The execution took place amid a deepening diplomatic spat between the kingdom and Canada, which occurred after Ottawa expressed concern over Riyadh's arrest of two women's rights activists. Saudi Arabia's Foreign Ministry immediately branded the statement "a major, unacceptable affront to the kingdom's laws and judicial process."
The Middle Eastern country froze all new trade agreements with Canada and gave the Canadian ambassador to Riyadh 24 hours to leave. It also ordered thousands of Saudi students in Canada to leave the country. Saudi patients in Canada are having their treatments stopped and being relocated to medical facilities outside the country.
In the meantime, Canadian Prime Minister Justin Trudeau defied Riyadh's demand to withdraw Canada's calls, telling reporters on Wednesday that Ottawa will "remain firm on standing up for human rights everywhere around the world."
READ MORE: Saudi Arabia to dump Canadian assets 'no matter the cost' as diplomatic rift spirals – report
The controversial execution comes amid the supposed reform drive of Crown Prince Mohammad bin Salman, who's been lauded for lifting a driving ban on women, and for opening cinemas ahead of his expected ascension to the Saudi throne. During the prince's much-discussed multi-city tour of the US, PR firms hired by the kingdom were reportedly hard at work to promote the modern image of the monarchy.
Amnesty International still puts Saudi Arabia on the list of top world executioners, alongside China, Iran, Iraq and Pakistan. According to data from the group, Riyadh executed at least 146 people in 2017, which represents 17 percent of all confirmed executions in the Middle East and North Africa. Human Rights Watch stated in April that Saudi Arabia had executed 48 criminals since the beginning of the year.
Think your friends would be interested? Share this story!
You can share this story on social media: