Germany treats Ukrainian soldiers but can't tell if they served in Nazi-linked battalions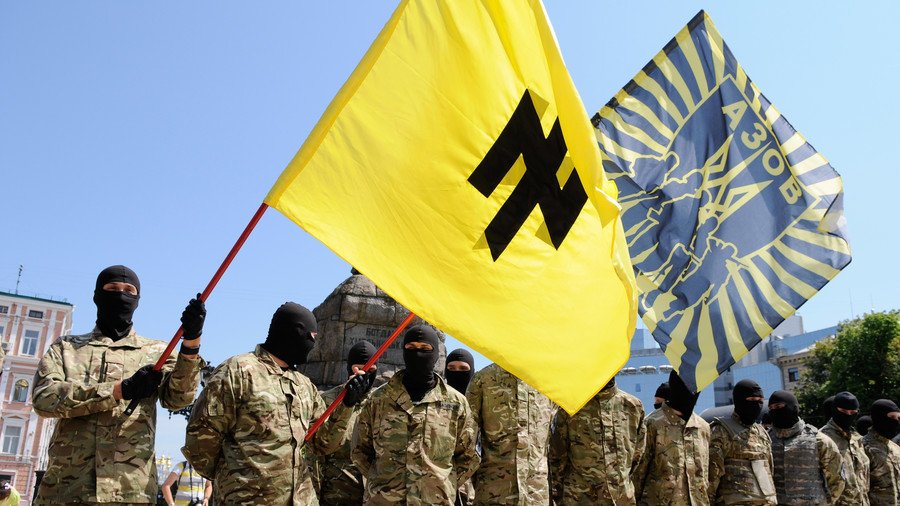 Germany treated more than 100 soldiers from Ukraine since 2014 but doesn't know if they served in the army or in neo-Nazi-linked paramilitaries. Some were filmed doing Nazi salutes on stretchers and sporting far-right logos.
The federal government "doesn't have information" on whether the treated Ukrainians were part of the Ukrainian army or paramilitary groups linked to neo-Nazi and far-right fighters, such as the notorious Azov Battalion, head of the parliamentary Defense Committee Wolfgang Hellmich wrote, responding to an inquiry by Alexander Neu from the Left Party.
Hellmich's letter, obtained by RT Deutsch, details that 112 Ukrainian fighters were airlifted and treated in Germany since the conflict in eastern Ukraine began in 2014. It also confirms that all transportation and medical costs were covered by the German side.
Earlier, the Defense Ministry's spokesperson told RT that the patients are selected "solemnly by their medical condition," with priority given to those in need of urgent treatment, and not based on where they served.
Neu, whose party is in opposition to the ruling coalition, was specifically asking about the fighters from the infamous Azov Battalion because its members were reported by numerous media outlets as brandishing Nazi insignia and espousing neo-Nazi and ultranationalist views. The battalion's official symbol is the 'Wolfsangel,' which was used by several German SS divisions during WWII.
In July, one of the injured Ukrainian fighters about to be airlifted for treatment by the German air force performed a gesture identical to a Nazi salute while he was lying on a stretcher and being filmed by the Deutsche Welle TV crew. According to the report, eight Ukrainians were admitted to a hospital in Berlin that day, and six others were transferred to a hospital in Hamburg.
Another injured man heading off to Germany at the same time was filmed by a Ukrainian TV channel TSN wearing a T-shirt from the clothing brand popular with neo-Nazis and ultranationalists. The shirt in question made a reference to the SS Division 'Wiking.'
READ MORE: Ukrainian Neo-Nazis mark anniversary of Galicia SS division with torchlit march (VIDEO)
The Azov Battalion actively participated in the war in eastern Ukraine. Its fighters can also be regularly seen marching in torch-lit processions, praising the Nazi collaborators in Ukraine, such as the SS Galicia Division.
The neo-Nazi ideology within the battalion was noted by major media outlets, such as USA Today and Der Spiegel, while its commanders dismiss the ties with Nazi Germany, and insist that the extreme views of some of the fighters are "their personal beliefs."
Subscribe to RT newsletter to get stories the mainstream media won't tell you.
You can share this story on social media: