Deadly stampede as thousands attend funeral of Indian political icon Karunanidhi (PHOTOS)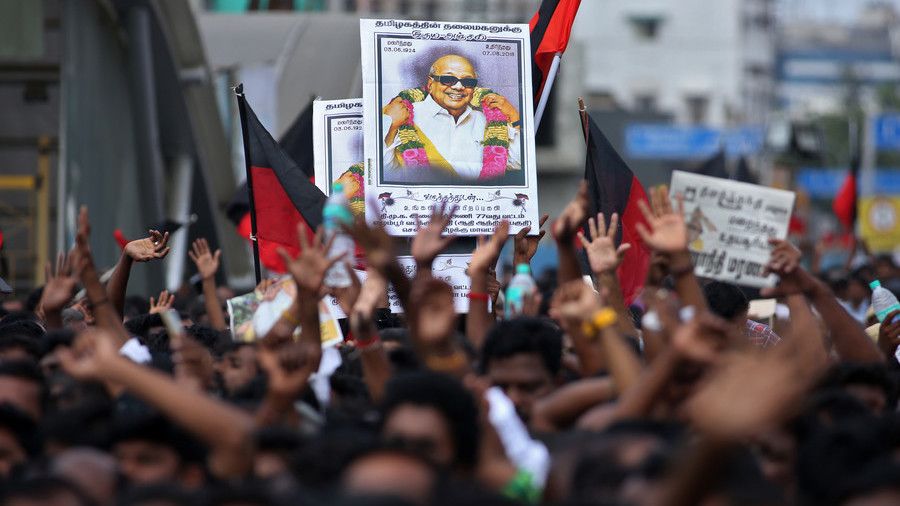 A deadly stampede has marred the funeral of revered south Indian writer-turned-politician Muthuvel Karunanidhi, as tens of thousands of people flocked to mourn his passing.
Crowds of supporters and many politicians, including Indian Prime Minister Narendra Modi came to Chennai, the capital of Tamil Nadu state, to pay their respects to Karunanidhi on Tuesday. Mourners tried to scale the walls of the Rajaji Hall, the public building where the politician's body lay in state. At least two people were reported killed and 30 others injured in a stampede.
Karunanidhi was an immensely influential figure in south India's cultural and political life. He rose to prominence as a screenwriter, dominating the Tamil-language movie industry in the 1950s, with more than 50 titles in his filmography. He also authored dozens of Tamil-language literary works, from poems and song lyrics, to essays and novels.
On the political side, he served as chief minister of Tamil Nadu for five separate terms between 1969 and 2011. He was also a leader of the Dravidian Progress Federation (DMK), which became a successful defender of the Dravidian culture and identity, to which the Tamils belong. Karunanidhi retreated from public life two years ago as his health deteriorated.
Karunanidhi died at the age of 94 in Kauvery Hospital from a number of age-related illnesses. The state declared a week of mourning while the national government and some neighboring states, where the majority of the population also belongs to the Tamil ethnic group, declared shorter periods of mourning.
His burial site is Anna Samadhi, a memorial at the Marina beach named after the state's first chief minister, Conjeevaram Natarajan Annadurai, whose cremated remains are housed there.