RT receives Emmy nomination for haunting reports on war-ravaged Mosul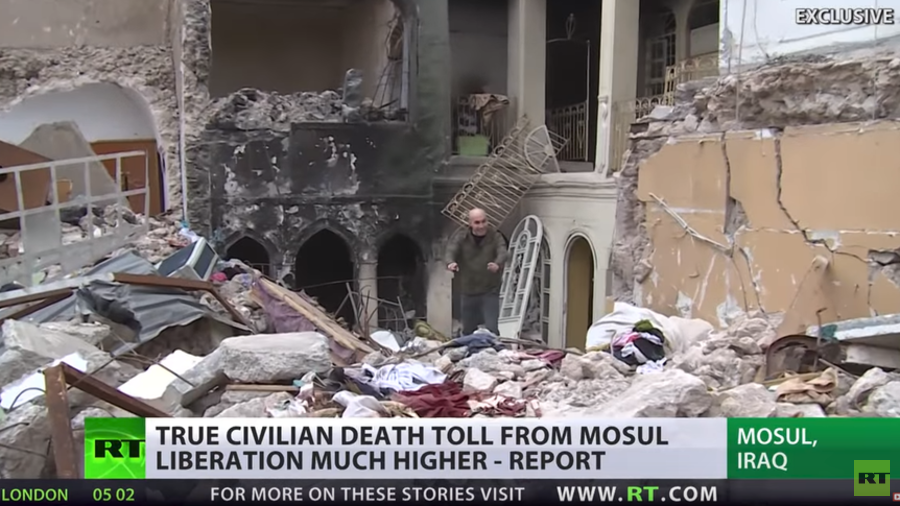 RT's special reports about the humanitarian crisis in the Iraqi city of Mosul has netted the network its sixth International Emmy Awards nomination, earning recognition for a story that went largely ignored in western media.
The finalists for the Emmy in the News category, announced on Monday, included RT's #MosulSOS, a series of reports and a social media campaign aimed at highlighting the plight of civilians fleeing the Iraqi city as US-backed forces laid siege to the former Islamic State (IS, formerly ISIL/ISIS) stronghold. In order to raise awareness about the humanitarian disaster occurring, RT launched the campaign #MosulSOS on social media in March 2017.
RT's Murad Gazdiev reported on the ground from Mosul, where he spoke with locals whose tragic stories about the destruction of their city never seemed to make western headlines. Those who managed to flee the carnage provided Murad with stories that often contradicted the US-led coalition's narrative of a precise, targeted bombing campaign.
"Very often the jets would miss. Seven entire families near us were killed this way," one woman told RT's correspondent. "Perhaps their weapons were faulty, as they regularly missed targets."
"There are so many people hurt by airstrikes. Four children were wounded yesterday while they were playing in the garden. We couldn't leave the house or let the children out, as the airstrikes and army artillery bombed us nonstop," another Iraqi told RT.
#MosulSOS also revealed the horrific aftermath of Mosul's liberation, with footage and interviews illustrating how the city has been left in ruins, with bodies still buried under mounds of rubble.
"There are still people under the rubble. A woman just found her husband under the wreckage. But no one can get him out. It smells terrible," one local told Murad, five months after Mosul's liberation.
Several reports focused on the plight of four-year-old Hawraa, a girl who survived – though she was badly wounded by – a coalition airstrike on Mosul. The airstrike killed her mother and most of her family, with her father telling RT that the assault on Mosul was tantamount to "genocide."
RT's reports also highlighted expert opinions, including that of the United Nations High Commissioner for Refugees Representative in Iraq Bruno Geddo, US Forces Commander in Iraq and Syria Lt. General Stephen Townsend and the Senior Crisis Response Advisor for Amnesty International, Donatella Rovera.
"Our journalists risked their lives in order to show the world the consequences of the operation meant to liberate the city of Mosul. I view their work with pride and admiration. This Emmy nomination is well-deserved," said RT Editor-in-Chief Margarita Simonyan.
The Emmy Awards, TV's 'Oscars', is one of television's most prestigious awards competitions. The winners for this year's News category will be announced during a ceremony on October 1 in New York City.
Like this story? Share it with a friend!