Bologna blast: Enormous crater in highway captured on VIDEO
Published time: 6 Aug, 2018 14:28
Edited time: 7 Aug, 2018 07:25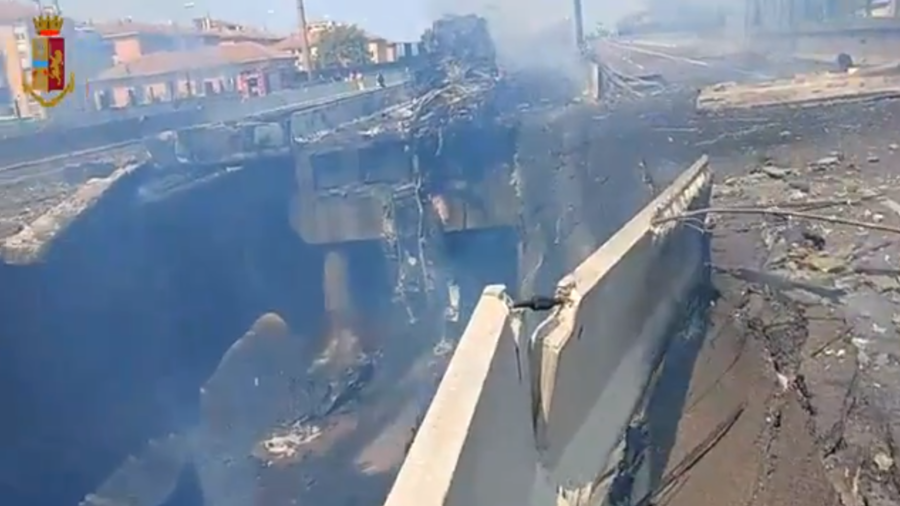 An enormous explosion in Bologna, Italy, has caused part of the highway to collapse, leaving a massive crater where once there was road, a video from the epicenter of the blast reveals.
The blast happened at around 2pm local time and was caused after a truck carrying flammable liquids collided with other vehicles. At least two people have died and more than 50 others are injured, Italian news outlet ANSA reports.
READ MORE: 2 dead, at least 55 injured in massive highway explosion in Bologna (PHOTOS, VIDEOS)
The massive explosion completely destroyed a large section of the highway. Video released by police shows an extensive crater and the charred remains of the destroyed truck.
Chiuso raccordo autostradale tra Bologna Casalecchio e il bivio con la A14
Bologna-Taranto, in entrambe le direzioni, a causa di un incidente al km 3 che ha visto coinvolta un' autocisterna.
Chiuso anche il relativo tratto tangeziale
In corso rilievi #poliziastradale@StradeAnaspic.twitter.com/tUZBBBTM0H

— Polizia di Stato (@poliziadistato) August 6, 2018
Like this story? Share it with a friend!