Scuffle breaks out as first woman fined for flaunting Denmark's 'burqa ban'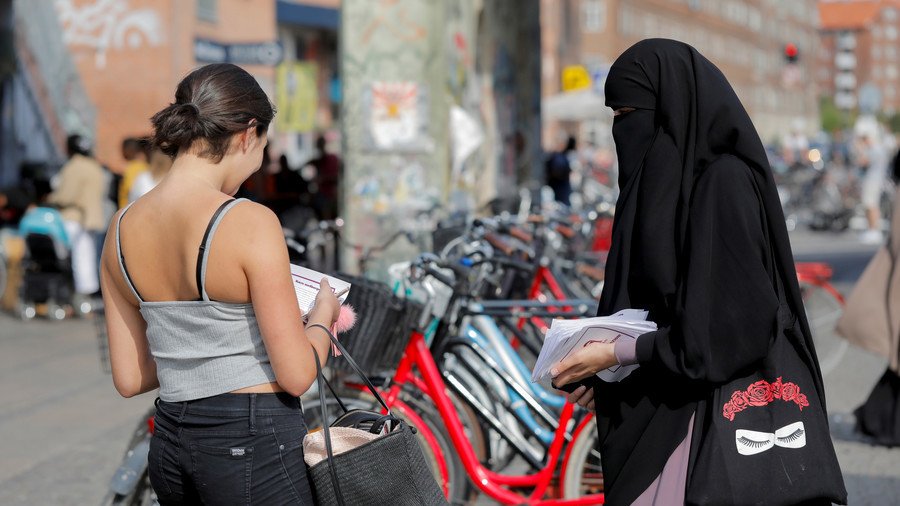 A 28-year-old woman wearing a niqab has become the first person to be fined for flaunting Denmark's contentious face-covering ban, which came into effect on Wednesday.
The incident happened in a shopping center in the Danish city of Horsholm on Friday, after police were called to a public disturbance upon the outbreak of a scuffle after another woman attempted to forcefully remove the woman's niqab, according to local media.
"During the fight her niqab came off, but by the time we arrived she had put it back on again," police officer David Borchersen told the Ritzau news agency. They took a photograph of the woman and obtained security camera footage of the incident.
Borchersen added that the woman was informed she would receive a fine of 1,000 kroner ($156) in the post for wearing the facial covering, and that she would need to remove the veil or leave the public space.
"She chose the latter," Borchersen said.
Coming into force on August 1, Denmark's ban prohibits the wearing of facial coverings such a balaclavas, masks and false beards. While the law does not mention Islamic facial coverings such as burqas or niqabs by name, Human Rights Watch has labelled the ban as "discriminatory" and said it was the "latest in a harmful trend."
Supporters of the law, meanwhile, claim the law will better integrate Muslims into Danish society.
Those caught wearing such coverings face a fine of 1,000 kroner, while repeat offenders can face fines of 10,000 kroner.
On Wednesday, hundreds of people took to the streets of Copenhagen in protest with demonstrators openly wearing facial coverings in opposition to the new law.
Think your friends would be interested? Share this story!
You can share this story on social media: