Satellite shots show epic scale of world's longest oversea bridge (IMAGES)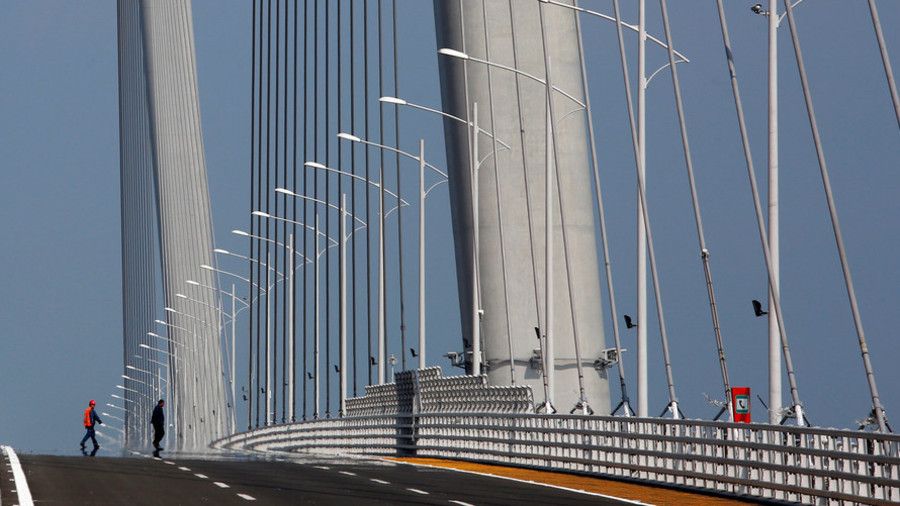 Satellite images are showing off just how enormous China's almost-finished mega-bridge is. Stretching for 34 miles, it connects Hong Kong, Macau, and the mainland's southern city of Zhuhai.
The bridge is expected to become the world's longest cross-sea bridge when it opens to traffic later this summer, cutting travel time in half for commuters.
Photos captured by satellite imagery service Deimos offers a unique view of the imposing structure, which boasts enough steel to build 60 Eiffel towers, ahead of its official opening.
Space View, a provider of Chinese EO satellite data services, is also monitoring the mega-bridge and put together an impressive timeline of how the bridge's west man made island has developed since work began in 2011.
Benefit from its features of large coverage and multi-revisit, satellite remote sensing is one of the best tools to monitor the progress of large construction works on our Globe. The animated images show the Brdige's west man-made island which has grown from nothing. pic.twitter.com/n7C1L7E8W4

— Space View (@bjspaceview) August 1, 2018
The HZMB bridge features six lanes and four tunnels – one of which is underwater, as well as four artificial islands to support the structure.
It is roughly 20 times longer than the Golden Gate Bridge and will take the title of the world's longest bridge over water from another Chinese structure – the Jiaozhou Bay Bridge in eastern China's Shandong province.
After seven years of construction and a controversial cost, which local outlets report is in the region of $15 billion, the Hong Kong-Zhuhai-Macau Bridge Authority is offering assurances that the structure is stable and will hold steady for at least 120 years.
You can share this story on social media: