'Jesus Christ! Open the door!' Terrifying VIDEO from Mexico plane crash emerges online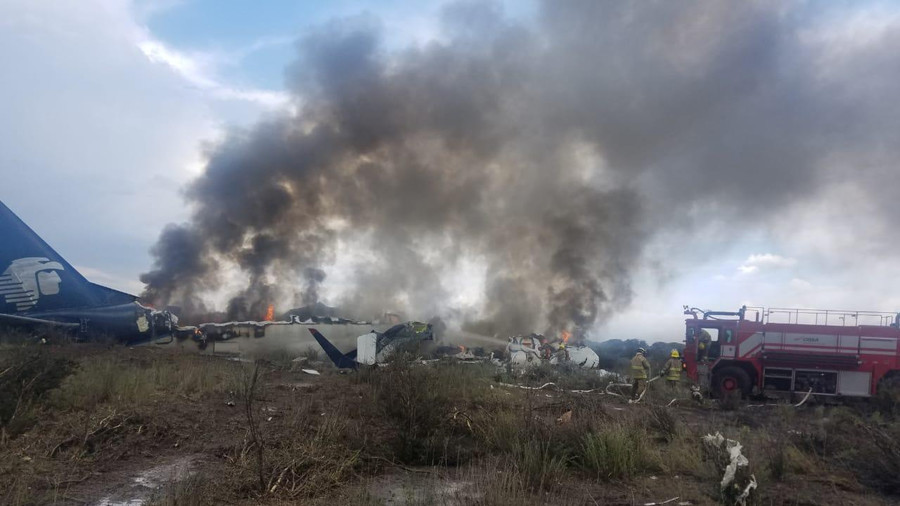 A passenger has shared the recording of what appear to be the last seconds of Aeromexico Flight 2431 and the panic that followed the crash. The man, a Christian pastor, also appeared to accuse authorities of a cover-up.
The video shows the Embraer 190 jet with 103 on board trying to take off in a rainstorm at Durango airport, failing to achieve altitude, and crashing back down, several hundred yards beyond the runway, all in a matter of seconds.
Otro video que circula en redes sociales, al parecer el mismo pero con mayor duración, permite escuchar la reacción de los pasajeros tras el impacto... pic.twitter.com/vL1NLXdPM1

— Jorge Pérez Arellano (@jperezarellano) 1 August 2018
During the two-minute clip, a scream can be heard in the background, even before the plane has finished its takeoff, and after the camera juts following the crash, there are loud calls to God, and more urgent instructions of "Open the Door!"
The footage was reportedly filmed by Ramin Parsa, an Iranian-born convert to Christianity, and has since been widely reposted on Twitter.
"I'm fine by the grace of God. It's a miracle of God that we are alive. I owe my life to Jesus. The devil thought he can take my life but he just made me more committed to Jesus," he wrote on his Twitter.
READ MORE: Plane with 103 on board crashes in Mexico, everyone survives
Authorities say that 98 of those aboard the jet, which was destined for Mexico City, were injured, but that no one died, and more than 60 people have already left hospital.
Meanwhile, civil aviation officials have told the media that they have recovered both flight recorders and should be able to decipher the events that led to the rapid crash.
Like this story? Share it with a friend!