'Puddle villain' van driver fired for targeting pedestrians in splashing rampage (VIDEO)
Published time: 31 Jul, 2018 16:02
Edited time: 1 Aug, 2018 09:30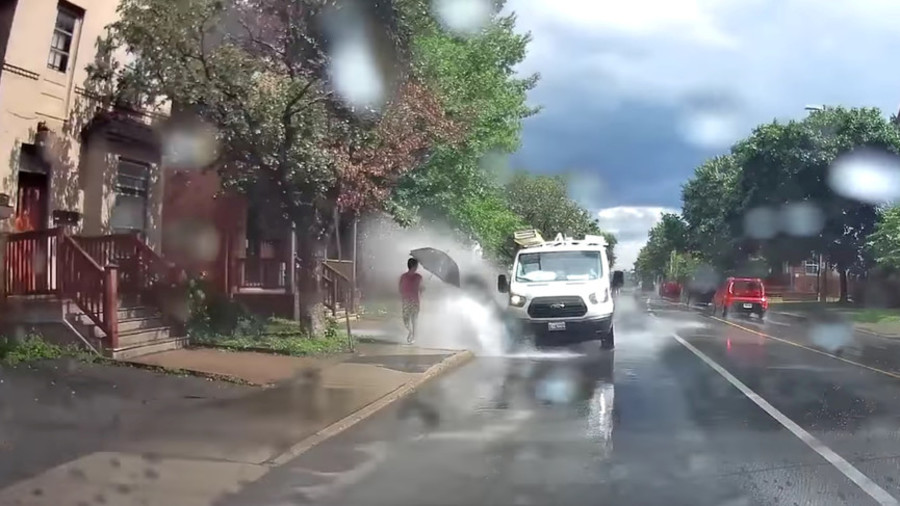 A van driver, who was caught on camera apparently driving into puddles on purpose to splash unsuspecting pedestrians, has been fired from his job following a police investigation into his rampage.
Dashcam footage captured the driver embarking on a 'splashing' frenzy as he drove in the rain along a street in Ottawa, Canada.
The 45-second clip shows a white van veering towards large puddles on three occasions, seemingly, intentionally targeting passersby.
In the first instance the driver can be seen swerving towards a puddle near where two pedestrians are standing holding umbrellas on the sidewalk. The vehicle soaks the pair before continuing on and drenching another umbrella-toting person.
An apparent third attempt to douse a passer-by was less successful, however, due to the shallow depth of the puddle. Video footage of the driver's antics was shared on YouTube and the clip has been viewed more than 1.2 million times, at the time of writing.
The driver, who worked for trade contractor Black & McDonald, was dismissed following the incident. "This is an isolated incident and the individual is no longer employed with Black & McDonald," the company confirmed.
Update on the Van Splashing Incident. I would like to thank Black & MacDonald Ottawa Div. for their quick and decisive action in this matter. The driver of this van has been terminated from the company. I would also like to thank a patrol Officer who assisted in this outcome.

— Sgt Mark Gatien (@gatienmc) July 29, 2018
Ottawa Police Sergeant Mark Gatien also confirmed the driver's termination. Police said Monday that their investigation was now closed and no criminal charges were being pressed against the individual, reported CBC News.
Like this story? Share it with a friend!