Coffin chaos: Outrage in Chinese province over 'cremation only' law (PHOTOS)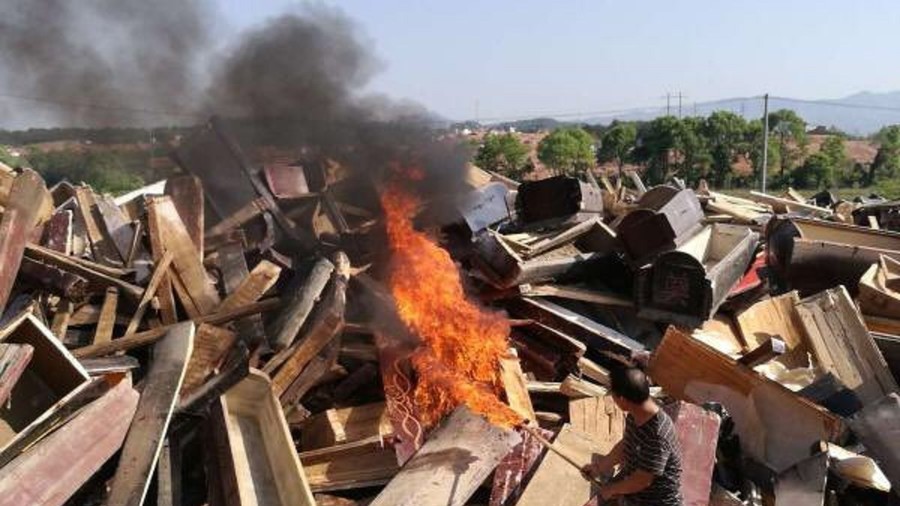 Coffins being smashed and locals lying in funerary boxes in an attempt to keep them – this is not some far-fetched horror, but a real-life drama unfolding in a Chinese province that is trying to enforce a 'cremation only' rule.
The drastic measures were introduced in several counties in southeastern Jiangxi province earlier this year. By September 1, local authorities aim to have made cremation the only approved method of disposing of bodies. Officials explain that the rule is the only way to save land in a province with over 45 million residents.
Photos and videos on social media show the "zero burial" policy in full swing – officials are seen entering villages, confiscating coffins that people have prepared from their homes. The coffins are then piled up and smashed by excavators.
Locals there don't seem ready to give up traditional practices easily, however. Some were trying to stop the destruction by climbing inside coffins, but were pulled out by force. Some poor households have spent their whole lives saving up to buy coffins for their family, the South China Morning Post reported.
It's tradition among many to buy coffins as soon as they turn 60 and keep them at home, as it's believed that this brings good fortune and a longer life. One man told SCMP that authorities confiscated coffins from his grandparents who are in their 70s. "These coffins had been stored in ancestral halls and had been with my grandparents for more than 30 years, as they were made by carpenters using wood grown from our own land," he said. According to the villager, tombstones are also being banned.
The Global Times and Sina Online even reported rumors that authorities would dig up buried corpses and cremate them. The alleged exhumation has been captured on unverified videos on Twitter, but nothing of the sort has been confirmed by the authorities.
An unnamed employee of the Ji'an county crematorium stressed that the authorities still "need the death certificates and family members' signatures to approve the cremation."
Authorities insist that people voluntarily handed over 5,800 coffins in Gaoan county, SCMP said, citing Thepaper.cn news portal. Officials in some areas also offered up to 2,000 yuan (US$290) per coffin as compensation. "It was the government's intention to introduce environmentally friendly funeral practices, but it has gone overboard and created resentment," Lu Liangbiao, a native of Jiangxi, said.
According to Zhu Wei, a professor at the China University of Political Science and Law, such a reform should be gradually implemented. "The green funeral reform is part of China's development but should strike a balance with tradition," Zhu told Global Times, adding that people need up to 20 years "to accept the change."
Subscribe to RT newsletter to get stories the mainstream media won't tell you.