Kangaroo crashes into family home window, collapses in a bloody heap beside toilet (GRAPHIC PHOTOS)
Published time: 30 Jul, 2018 14:25
Edited time: 31 Jul, 2018 09:42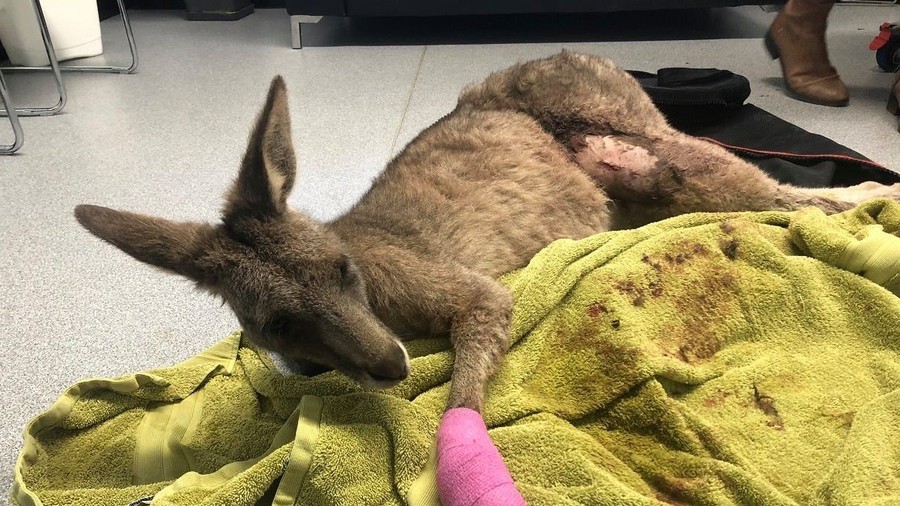 A family in Melbourne was given the late-night wake-up call of their lives when a panicked kangaroo smashed through the front window of their home and hopped around, bloodied from a series of flesh wounds.
The startled roo broke into the home of Mafi Ahokavo and his family on Saturday night, creating a significant stir by jumping around several rooms of the property.
According to Australia's 9 News, the animal was wounded when it crashed through the glass. After smearing blood on a wall, the roo then attempted to escape via a second window. The residents of the home eventually managed to lock it in a bathroom, where it collapsed beside a toilet from exhaustion.
Animal rescuer Manfred Zabinska was one of the first responders who called out to the property, which he described as looking like a scene from a horror movie. The rescuer has posted images online showing the aftermath of the incredible incident.
"In a panic, he [the kangaroo] hopped around the house and smashed the lounge room window in his attempt to escape. With numerous lacerations from the broken glass, he left each room looking like a scene from Psycho," Zabinska said.
"Eventually, he became exhausted and collapsed at the base of the toilet where the occupants were able to shut the door and lock him in."
The kangaroo was sedated to relieve stress and the animal has since been treated by vets from Essendon Fields Animal Hospital. The animal, nicknamed Norman Bates, is now recovering at Zabinska's Five Freedoms Animal Rescue service.
"He had obviously hopped a considerable distance on roads as his toenails were very worn and bleeding – an extremely painful injury," Zabinska said. "But he is in with a chance, so we took Norman Bates home and into our care."

Like this story? Share it with a friend!