Staggering cost of next-gen Armata tank made Russian army look for cheaper options – Deputy PM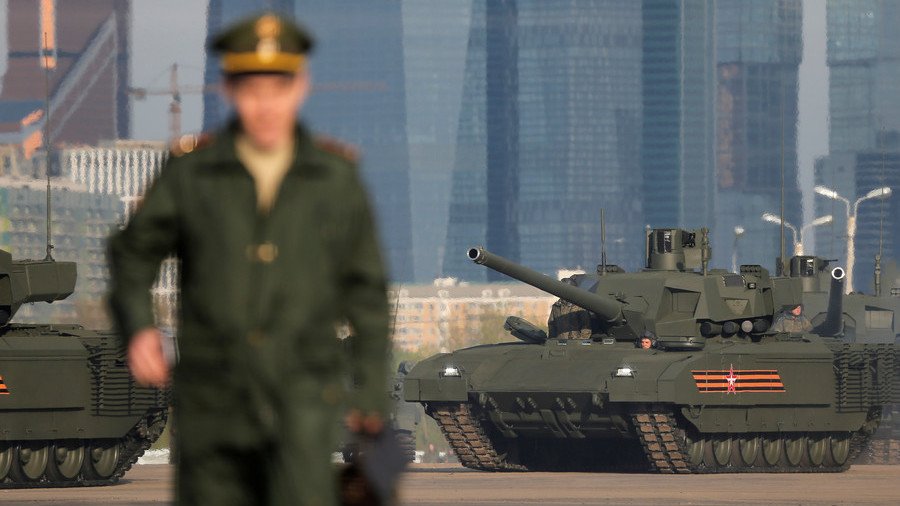 The cutting-edge T-14 Armata tank turned out to be too costly for the Russian army which now has to look at cheaper alternatives like the modernized version of time-tested T-72, a high-ranked government official acknowledged.
The T-14 Armata tank, a technological marvel of Russian military industry, is anything but affordable for the army, Deputy Prime Minister Yuri Borisov told reporters on Monday. He admitted the Russian military will not be able to purchase the tanks en masse due to their staggering cost.
"Why flood our military with Armatas, the T-72s are in great demand on the markets," Borisov said. T-72 tank, which is in use with dozens of countries since 1970's, "leaves far behind" the US-built M1 Abrams, France's Leclerc and German Leopard "in terms of price, efficiency and quality."
Borisov, who previously was in charge of procurement in Russia's Defense Ministry, explained that modernization of ageing inventory proved to be more cost-efficient. "Having a military budget ten times smaller than that of NATO, we are achieving our objectives due to such efficient solutions," he explained.
The T-14 Armata tank has been first revealed to public back in 2015 at a rehearsal for the traditional Victory Day parade in Moscow, appearing on the streets with its turret concealed by a camouflage net. The official presentation was made on May 9 of the same year during the Victory Day parade itself.
Though not much is known about technical features of the next-generation tank, open sources suggest the T-14 stands out due to its unmanned turret and exceptional firepower. Unlike modern-era tanks of classic layout, the Armata has an internal crew compartment which increases survivability in case of direct hit.
Developers said the tank features the Afghanit active protection system which includes radar to detect, track, and intercept incoming anti-tank munitions, such as shells or rocket. The T-14 is also said to have some robotic features, allowing to turn it into an unmanned platform in the future.
In August last year, the Defense Ministry revealed plans to procure more cutting-edge weapons systems, including Armata. The platform, which involves not only the T-14 tank, but also its sister vehicle, the T-15 heavy personnel carrier, will be a "trump card" for the military, Borsov said at the time.
"We can play it anytime we want, boost the series production when needed and stay ahead of our colleagues, so to speak," he claimed. The current plan is to have 100 T-14s in the Russian armed forces by 2020, as well as sizeable batches of upgraded T-90M tanks and BMP-3 infantry fighting vehicles.


Subscribe to RT newsletter to get stories the mainstream media won't tell you.
You can share this story on social media: