Russia's newest Kalibr cruise missile-capable corvettes may be offered to China & India – govt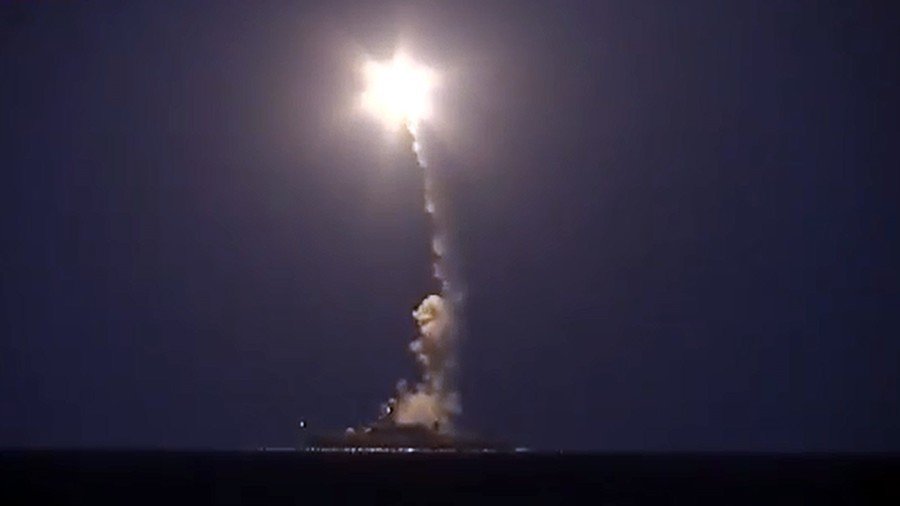 Russia will offer its newest corvettes – armed with battle-proven Kalibr cruise missiles – to foreign customers, including China, India and Vietnam, the deputy prime minister said unveiling a range of other military novelties.
Cutting-edge Karakurt-class corvettes, capable of launching Kalibr cruise missiles, may be exported to a number of Asia-Pacific countries, Deputy Prime Minister Yuri Borisov has announced on Monday. "These ships are pretty good, they have large displacement and are well-armed," Borisov was quoted by RIA Novosti, adding, "Kalibr is what makes the difference."
The 800 ton-displacement vessel, which comes "at an affordable price," is small in size and can move at high speeds, the official explained. Ships of this class might be of interest to China, India or Vietnam, along with other countries, according to him.
According to Borisov, Russian Navy is already taking delivery of the new corvettes. "They go to the Baltic and Northern Fleets, as well as to the Caspian and Black Seas," he said.
The Karakurt-class corvette – it derived her name from the black widow spider – has been designed to be a more seaworthy, blue-water upgrade of the Buyan-M class missile boats which are currently deployed by Russia's Caspian Flotilla and Black Sea Fleet.
It can be fitted with Kalibr cruise missiles or Onyx anti-ship missiles, while it is also furnished with 76mm AK-176MA automatic dual-purpose cannon. Future corvettes in the series are also expected to receive Pantsir-M anti-aircraft defense systems.
Uragan, the maiden vessel of the new project, has gone through a full set of testing during its deployment to Lake Ladoga, which will involve thorough tests of its survivability systems, the Defense Ministry has said earlier in May.
The maiden ship was commissioned last July and has been receiving final factory tuning at the Pella shipyard on the Neva River since then.
While the Karakurt-class corvette is something new to the world, the Kalibr cruise-missile is not. The weapon first saw service in October 2015, when a Gepard-class frigate and three Buyan-M class Russian Navy corvettes, part of the Caspian Flotilla launched 26 Kalibr-NK missiles at several terrorist targets in Syria during the Syrian Civil War.
During its campaign against the Islamic State (IS, formerly ISIS), Russian surface ships and submarines carried out several massive cruise missile strikes on various terrorist targets. They destroyed multiple ammunition depots, command centers, and heavy armor used by Islamist groups, according to the Russian military.
Missile corvettes aside, the top Russian official announced development of a ground-effect craft, which came to be known as an Ekranoplan. The vessel will be fitted with missile systems and designed to patrol sea shores.
Additionally, Borisov said, dozens of heavy-duty Zubr and Murena-class hovercraft for the Navy. Both types of vehicles are capable of ferrying up to three tanks weighing 150 tons or 10 personnel carriers and 140 troops.
Subscribe to RT newsletter to get stories the mainstream media won't tell you.
You can share this story on social media: