Sweden drops bombs to extinguish wildfires caused by summer heatwave (VIDEO)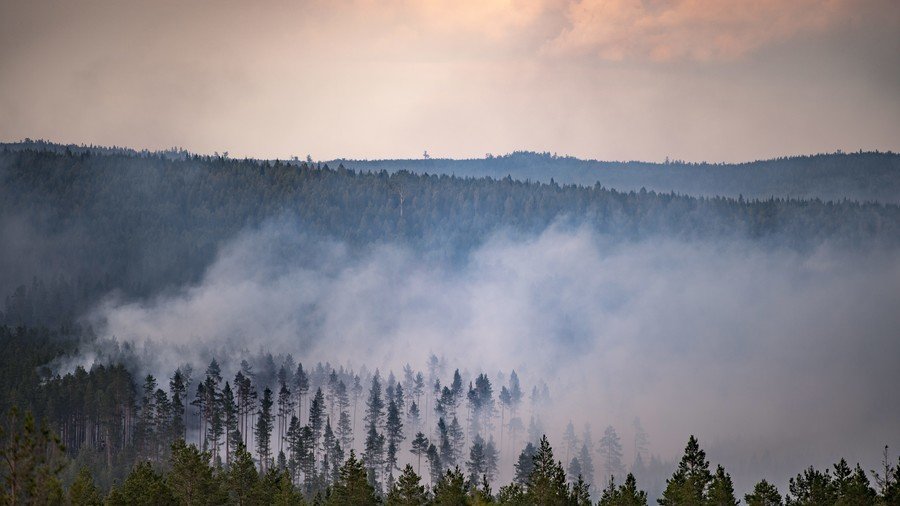 As wildfires spread across the EU due to sweltering hot temperatures, Sweden resorted to an ingenious and equally puzzling way of extinguishing them – by dropping bombs.
The threat of the blaze in central Sweden was compounded by the fact it engulfed a military target-practice area containing undetonated shells. So it was too risky for firefighters to do their job on the ground.
The country's Armed Forces scrambled two fighter jets at 12pm on Wednesday to drop the bombs from 3,000 meters, in the hope the pressure caused by the explosive devices could help calm the fire.
READ MORE: WATCH Dramatic moment man escapes Greece wildfire as flames consume his home
"The oxygen from the fire can be removed with the help of a bomb and in this case it was possible to try it, because the fire is at a firing range," said fire and rescue team leader Johan Szymanski in a statement.
"Our preliminary assessment right now is that this had a good effect."
The bomb managed to extinguish fires up to 100 metres away from the location where they were originally dropped, The Local claims.
The model used was a GBU-49 according to Swedish tabloid Aftonbladet, and it reached speeds of 550 km/h before hitting its target with meter precision.
Sweden has been grappling with wildfires for the past two weeks, with multiple counties enforcing fire bans and prohibiting people from having barbecues.
Sweden, where summer temperatures average around 23 degrees celsius, is ill-equipped to deal with this season's heatwave, which has seen the northern European country hit 31 degrees, and has therefore got help from several EU and EEA countries.
If you like this story, share it with a friend!
You can share this story on social media: