Man braves streets of Russian city in wheeled bathtub (VIDEO)
Published time: 26 Jul, 2018 13:29
Edited time: 27 Jul, 2018 10:08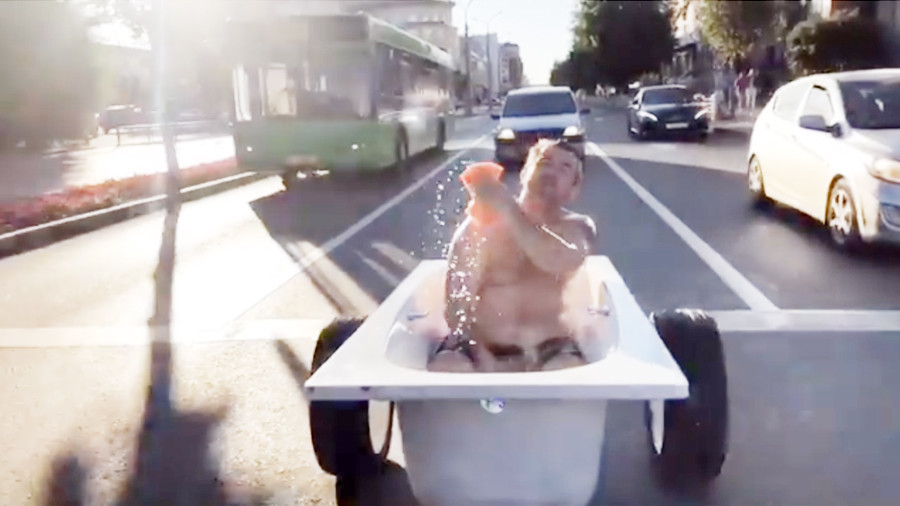 A semi-naked man in a wheeled bathtub - not what you'd expect to see in traffic, but a sight residents of one Russian city got anyway. Onlookers cheered on the hairy hero, but authorities were not impressed by the sudsy stunt.
Motorists, pedestrians, bus passengers, and - eventually - the internet were left stunned to see local video blogger Eduard Filippov getting towed around the streets of south Siberian city of Tyumen in a wheeled tub, complete with soapy bathwater.
The viral video, posted to Instagram, was met with positivity in the form of nearly 17,000 likes and over 300,000 views in just three days. The authorities, however, did not see the funny side, slapping the driver with a 1,000 rouble fine (some $16) for "improper passenger transportation."
The short clip, documenting Saturday's bathtub escapades, featured the vlogger squirting other motorists with water pistols, letting of confetti cannons, and stunning drive-through workers with his strange mode of transport.
Filippov's Instagram page warned viewers against copying the stunt, stating it "was dangerous and punishable by law" - as the man and his friends learnt when they received their fine.
Think your friends would be interested? Share this story!