Juncker presents Trump with cemetery photo, but it's not a grave warning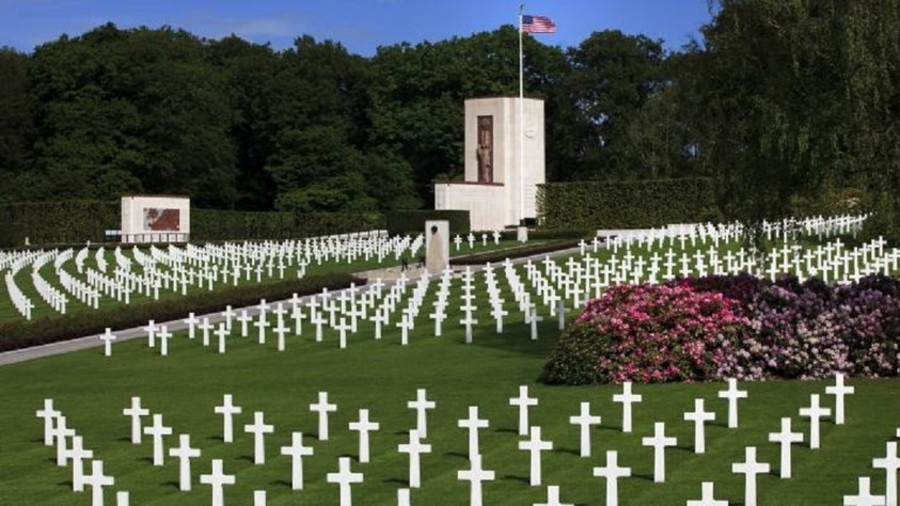 Top Brussels official Jean-Claude Juncker, known for his somewhat eccentric behavior, has given Donald Trump an unusual gift - a photo of a cemetery. But it's not an ominous threat.
The European Commission President visited Washington this Wednesday in an effort to avoid a trade war that has been brewing since the start of the summer.
Speaking on the results of the meeting with Trump, Juncker explained the symbolism of his gift, a photo of a military cemetery in Luxembourg, to the US president. The present wasn't meant to be sinister, but was aimed at reminding Trump, who had repeatedly locked horns with EU officials, that Europe and the US share a common history, Juncker said.
The Luxembourg American Cemetery and Memorial has the remains of over 5,000 US servicemen, including a grave of renowned General George Patton who led the US army during the Allied invasion of Normandy back in 1944.
President @JunckerEU's gift to @POTUS to mark the occasion of their meeting today in Washington: Historic photos from the liberation of Luxembourg by the US Army, honouring the memory of the fallen Americans. Europeans do not forget. 'We have history in common'. pic.twitter.com/aVlPIne1bZ

— Margaritis Schinas (@MargSchinas) July 25, 2018
"Dear Donald, let us remember our common history," a message written on the photo said, according to Juncker. "And we should do that even in more difficult times," he stressed hinting at the strained relations between Washington and its transatlantic allies.
"At a time when tensions might feel strained, it is more important than ever for young people on both sides of the Atlantic to learn about the power of our past," Luxembourg-born Juncker continued, saying that after the devastation of WWII "our parents and grandparents" vowed "Never again."
READ MORE: EU agrees to buy more US soy, import more liquified gas - Trump
It's not clear how Trump, who is not exactly known for his subtlety, reacted to the cemetery photo gift. The US and the EU have been at loggerheads over trade after Trump announced tariffs on steel and aluminum, provoking a response from Brussels. US goods that have been impacted by the response from America's traditional allies include Bourbon whiskey, orange juice and Harley Davidson motorcycles.
During the Wednesday meeting Juncker confirmed that the EU will build more terminals in order to import liquid natural gas (LNG) from the US, while Trump announced that the EU will be buying "a lot more" soybeans from the US, and that Brussels and Washington will work to eliminate tariffs, barriers and subsidies on "non-auto industrial goods."
Subscribe to RT newsletter to get stories the mainstream media won't tell you.