NASA satellite image captures devastation of Greece wildfires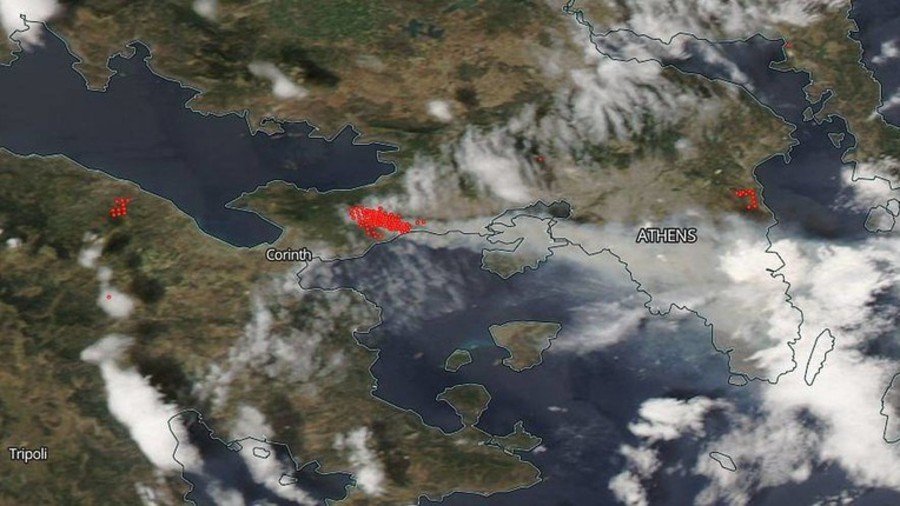 Satellite images of Greece's deadliest wildfires in over a decade show the huge devastation wreaked by the disaster as firefighters continue to battle the flames.
At least 77 people were killed when multiple wildfires swept across Greece's Attica region. The death toll is expected to rise as rescue crews search for survivors.
READ MORE: 74 killed, 180+ injured by wildfires in Greece, authorities ask EU for help
An image captured by NASA on July 24 shows the areas surrounding Athens which are still actively burning.
Each hot spot, outlined in red, is an area where the thermal detectors recognized temperatures higher than background. The accompanying plumes of smoke, seen in the image, are indicative of fire, NASA said.
The EU's Earth Observation Programme, known as Copernicus, also snapped some incredible images of the wildfires from space.
Images taken by the Sentinel satellite and shared by German imaging expert Pierre Markuse shows the extent of the Kineta wildfire. Dense smoke clouds can be seen billowing over the charred landscape.
Meanwhile, aerospace engineer Jorge Garcia examined the spread of nitrogen dioxide from the wildfires – a gas which is toxic if inhaled and which expedites the burning of combustible materials.
If you like this story, share it with a friend!
You can share this story on social media: