Large boulder breaks off Jerusalem's Western Wall, almost hits worshipper (VIDEO)
Published time: 23 Jul, 2018 14:57
Edited time: 24 Jul, 2018 07:30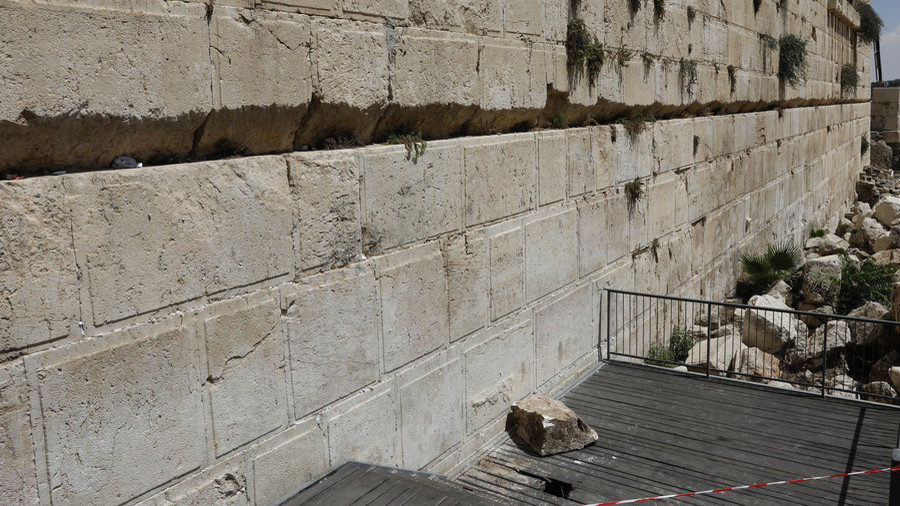 Footage of a large boulder crashing onto a prayer platform at the Western Wall in Jerusalem and landing only a few meters away from a worshiper has emerged online.
A lonely female worshipper, wrapped in dark clothes, can be seen praying on the edge of the platform, as the rock crashes on the stairs just a few meters away from her. The woman can then be seen moving closer to inspect the rubble.
Local media report the boulder, weighing about 220 pounds (100 kilograms), comes from the original Herodian wall, which is over 2000 years old.
The incident caused the site's chief rabbi to ask the public to do some "soul searching."
Western Wall rabbi Shmuel Rabinovitch called the incident "unusual and most unique," and compared it to when a boulder fell a day after the fast of Tisha B'Av, in which Jews mourn the destruction of both Temples.
This fact "raises doubts and questions which the human soul is too small to contain," the rabbi said, as quoted by the media.
Israel's Antiquities Authority is examining the incident. The last time a stone fell out of the Western Wall was on Yom Kippur 2004. One worshipper was left slightly injured.
Think your friends would be interested? Share this story!