Massive firework explosion causes injuries & damage at Spanish fiesta (VIDEO)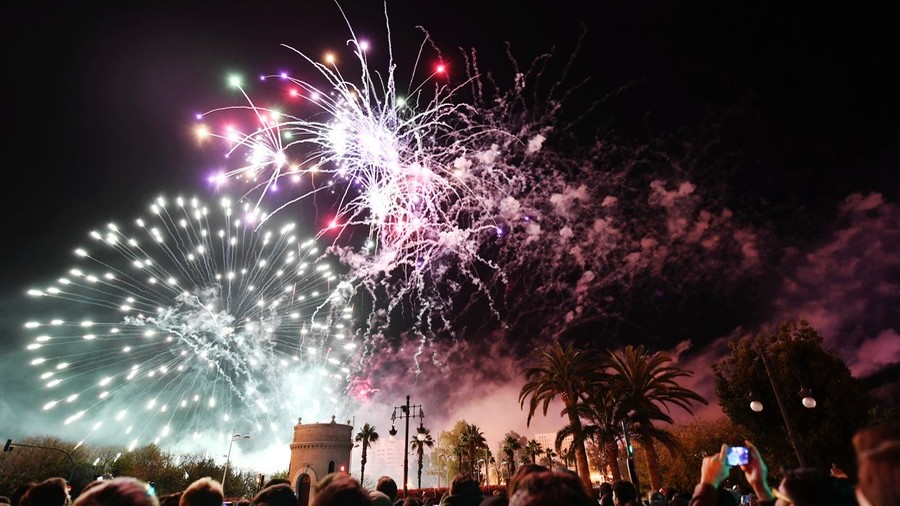 Some 20 people have reportedly received minor injuries after a pyrotechnic explosion interrupted celebrations at a festival in northern Spain, shattering windows and putting the area on lockdown.
The blast occurred around midnight on Saturday in the municipality of Cangas del Narcea in Asturias during the closing celebrations of the city's La Magdalena festival, according to Europa Press.
A "huge roar" was heard by the crowds watching the display as the explosion blew out the windows of a nearby house and shop windows, causing glass to shatter into the streets. Several walls were also demolished. One of the buildings that sustained damage is said to have been a bank.
Those caught up in the explosion suffered minor cuts from broken glass and at least one of the organizers suffered burn injuries.
Local police closed off roads surrounding the area and stepped up patrols in order to prevent any looting of nearby businesses. The rest of the planned program for the festival has been suspended.
A fireworks rocket that veered off course during the display has been blamed for the incident, as it apparently ignited the rest of the unlit pyrotechnics.
Writing on Facebook, Mayor of Cangas del Narcea Jose Víctor Rodriguez said that the incident could have been much worse and might have been a major tragedy. An investigation into the exact cause of the accident is now underway, he said, adding that urgent measures were being taken to prevent such an event from happening again.
Such incidents are not uncommon during Spanish celebrations. In 2012, 28 people were injured in the eastern Spanish town of Elche after a rogue firework ignited thousands of others being stored in a church bell tower, causing sparks and burning material to rain down on observers.
Think your friends would be interested? Share this story!