'US presidents talk peace, but never about social justice': Bolivia's Morales to Correa on RT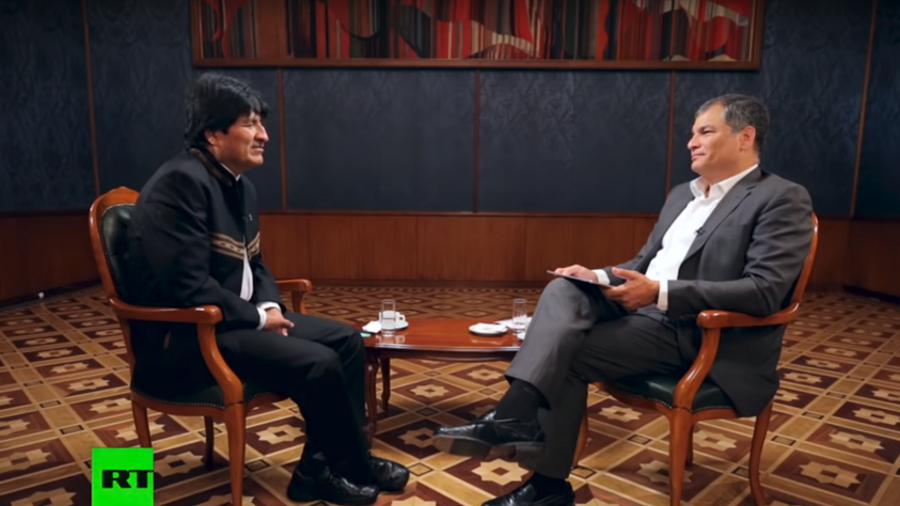 Social inequality and injustice are attributes of imperialism and capitalism, with the US standing at the forefront of it, President of Bolivia Evo Morales has said discussing the new world order with Rafael Correa on RT.
"Some presidents of the United States talk about peace, but they never speak about social justice. Peace without social justice is not peace," Morales, Bolivia's first president to come from the indigenous population, told Rafael Correa on the RT Spanish show "Conversations with Correa."
"Besides that, the US meddles into other countries' domestic politics, conducts military interventions, and this leads to waves of refugees and migrants."
Correa and Morales also touched upon modern globalization, which only "builds walls" between people instead of creating citizens of the world. And until the global community realizes that imperialism and capitalism "always give rise to inequality and injustice," there will be no end to that, Morales stressed.
"I'm convinced that imperialism and capitalism are the worst enemies of humanity, the worst enemies of life and the worst enemies of future generations. What does capitalism guarantee to future generations if it causes so much harm to life and Mother Earth?" the Bolivian president said.
Double standards: Some are praised, others labelled dictators for the same years in power
Morales would be branded a dictator if he takes the presidential office for the fourth time next year, but in case of other world leaders the logic does not work like that, Correa noted. Besides, Morales has already faced double standards approach and was called a populist because he abandoned traditional policies, according to the RT host.
"If he wins his fourth election, they will call him 'a caudillo' [military dictator] and that it is coming round to dictatorship. If Angela Merkel, with all due respect, wins her fourth election, she will be called a strong leader and Germany a country with mature democracy," Correa said.
You can watch Evo Morales' full conversation with Rafael Correa in Spanish on actualidad.rt.com.
Subscribe to RT newsletter to get stories the mainstream media won't tell you.
You can share this story on social media: