Hundreds of refugees expelled from public park in Nantes after court ruling (VIDEO)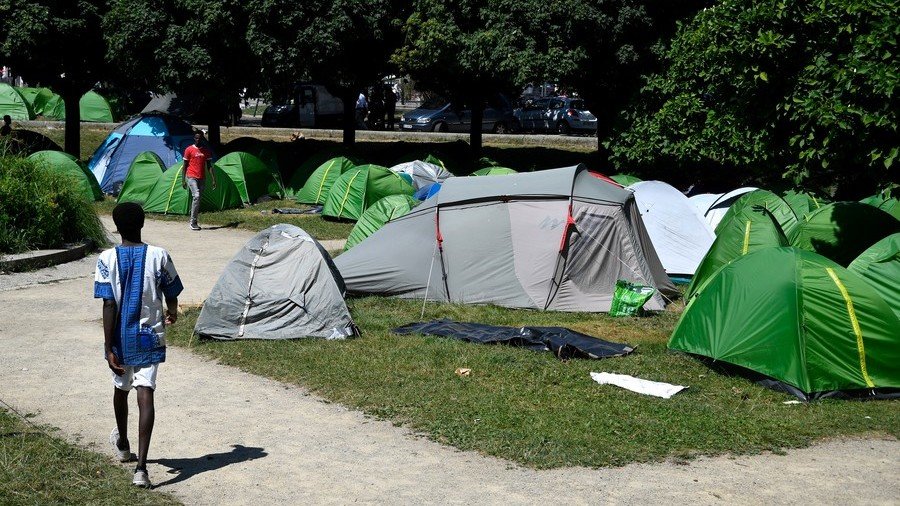 Some 500 migrants have been expelled from a public garden in Nantes, France, where they had been living in tents, following a court decision. Earlier, doctors warned of epidemics and locals voiced unease over their presence.
The camp in the center of the city had been a source of tension between the mayor and the local prefecture, after the mayor had originally refused to expel them. The local prefecture was concerned about issues surrounding sanitation following warnings from Medecins du Monde that it could lead to epidemics. Locals had also voiced unease over their presence.
Hundreds of the migrants are in the process of claiming asylum reportedly fleeing countries like Sudan and Eritrea. They had settled in numerous tents in the park in western France after being forced to leave an abandoned building nearby.
RT's Charlotte Dubenskij visited the location and talked to one of the refugees. "We're lost, hopeless. There's a problem with finding somewhere to live, and food. We don't sleep well, it's tiresome," said a man identified as Mohammed.
Sanitation became a big issue in the makeshift camp as there is only one toilet and just a single water tank to serve 500 people. Meanwhile, locals say they are concerned over the refugees' presence in the area. "It's very negative for Nantes, just like for every city where they settled," a local woman told RT. "It's a very bad sign for locals and tourists."
It's not clear where they will now go, but associations who had been helping with supplies such as food and tents say they will ensure the migrants stay together. One local woman responded to the court's decision by saying it would only move the problem. "It means instead of solving the issue, it has now been moved to another location, for someone else to deal with."
Think your friends would be interested? Share this story!
Subscribe to RT newsletter to get stories the mainstream media won't tell you.
You can share this story on social media: