'People aren't pleased': Posh Paris neighborhood alarmed by new migrant shelter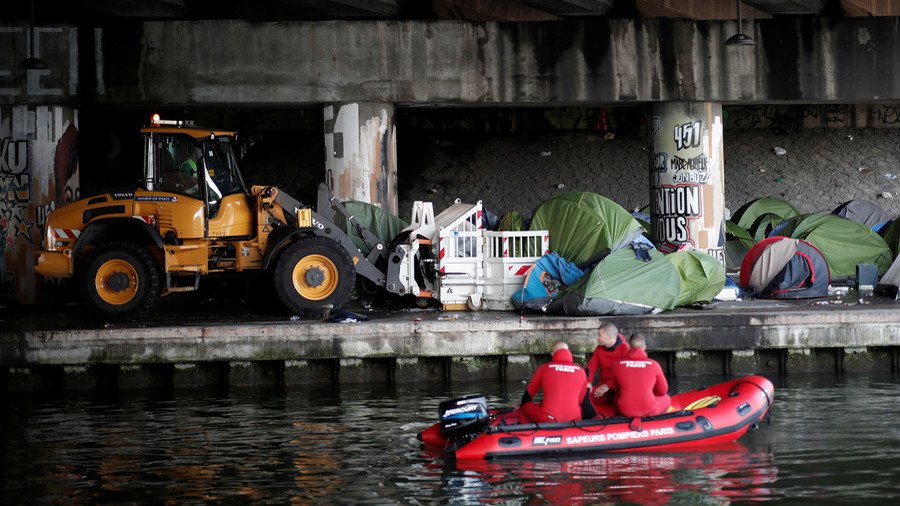 The residents of a luxurious area of Paris told RT that they're afraid troublemakers are among the newcomers after the authorities settled around 170 migrants in the area.
Earlier this week, hundreds of migrants were cleared from their makeshift camps along the canals in the French capital, and some of them were moved to a newly-built shelter in Bois de Boulogne park.
The green area is located along the western edge of the wealthy 16th arrondissement of Paris, which hosts the home of former president Nicolas Sarkozy, the Parc des Princes arena of PSG football club as well as the Roland Garros tennis stadium where the French Open is currently underway.
The move came as a surprise for the locals, who said that they now have security concerns. "I think that people here are not very pleased that this people [migrants] are here," one of the 16th arrondissement residents told RT. "They are afraid that some of them must be very difficult… some of them are very-very nice, I'm sure, but a little part of them are, maybe, bad."
Not everybody had grim expectations though, another resident told RT that her life was unaffected after the migrants moved in. "We don't see any changes. We don't communicate with migrants because we don't see them at all in the area," she said.
This view was countered by a local woman, who said that moving migrants to Bois de Boulogne was a mistake because the area around it "is populated by many old people, who aren't really open-minded. So I think that this area isn't the most welcoming."
READ MORE: 'I wasn't thinking about being brave': Malian 'Spiderman' talks about rescuing 4yo in Paris
This week saw the migrants being evicted from their improvised camps in Paris for the 34th time during the last three years. But it doesn't seem to solve the problem as thousands of people continue living in makeshift tents along the canals and more than 500 new asylum seekers arriving in the capital every week.
You can share this story on social media: