'No rush for speed' in N. Korea's denuclearization, sanctions still in place – Trump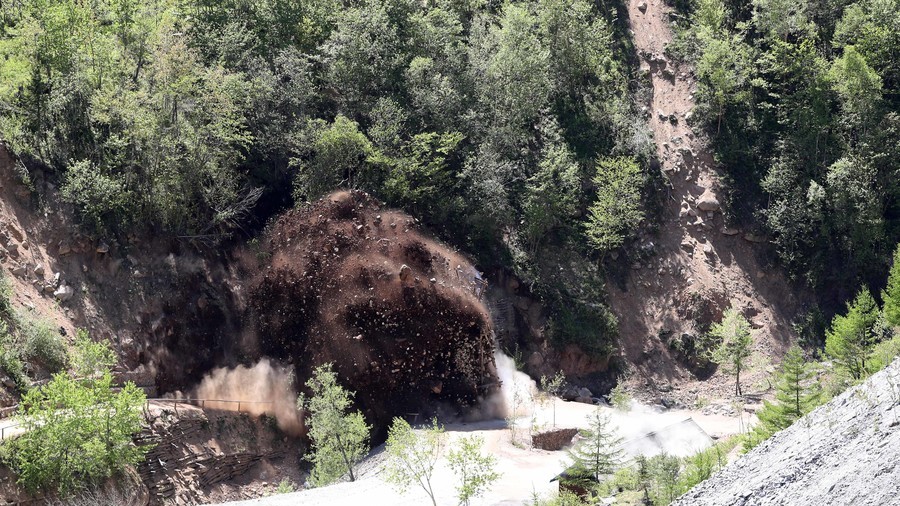 There is "no rush" on North Korean denuclearization for the US, at least according to Donald Trump… despite the earlier 'maximum pressure' campaign, demanding that Pyongyang start the process "very quickly."
Trump tweeted the remark on Wednesday, promising "big benefits and exciting future" for Pyongyang "at end of process." The president echoed his own statement to reporters from a day before, when he said that "we have no time limit [on denuclearization]. We have no speed limit."
....Russia has agreed to help with North Korea, where relationships with us are very good and the process is moving along. There is no rush, the sanctions remain! Big benefits and exciting future for North Korea at end of process!

— Donald J. Trump (@realDonaldTrump) July 18, 2018
The apparent change of heart comes as the US' relationship with Pyongyang is "very good," and the American "hostages" are back, according to Trump. Also, "there have been no rockets going up for a period of nine months."
Discussions continue and are "going very, very well," Trump said. However, Pyongyang shouldn't look forward to an easing of sanctions any time soon, as, according to Trump, they will remain in place.
READ MORE: Trump 'confident' that Kim Jong-un will 'honor our contract and handshake'
By his "no time limit" statement, Trump seems to be making a U-turn on North Korean denuclearization, which the US claims endangers its own security and that of its allies. The president also famously called North Korea an "extraordinary threat" to the US, justifying more pressure on Pyongyang. The boiling point was reached on several occasions, with President Trump even stating that "all options" were on the table – hinting at a potential military conflict – and with Russia and China warning of the dire consequences.
At certain points, the president seemed to get carried with his war of words with Kim. Trump once bragged that his nuclear button was "much bigger and more powerful" than Kim's.
During the summit with North Korean leader Kim Jong-un in Singapore in June, Trump insisted that Pyongyang should start the process "very quickly," and that "a lot of people" would be sent to North Korea to verify it. The gathering came after Pyongyang demolished tunnels leading to its underground nuclear testing site.
US Secretary of State Mike Pompeo also seems to be in favor of a fast denuclearization process. In June, he even defined a 'tangible' time limit to achieve "major" North Korean nuclear disarmament, saying that Washington hopes that the North would do it within the next 2.5 years. The first steps for scrapping the nuclear program were made even before the historic Trump-Kim summit, as Pyongyang demolished its Punggye-ri nuclear test site in May. However, hours after North Korea demolished the site, Trump suddenly announced the cancellation of his meeting with Kim in Singapore due to "the tremendous anger and open hostility" from Kim. Later he changed his tune again, and the summit eventually took place.
Subscribe to RT newsletter to get stories the mainstream media won't tell you.
If you like this story, share it with a friend!
You can share this story on social media: