Performance anxiety? Fans swap Pornhub for football during World Cup final
Published time: 18 Jul, 2018 10:00
Edited time: 17 Aug, 2018 12:43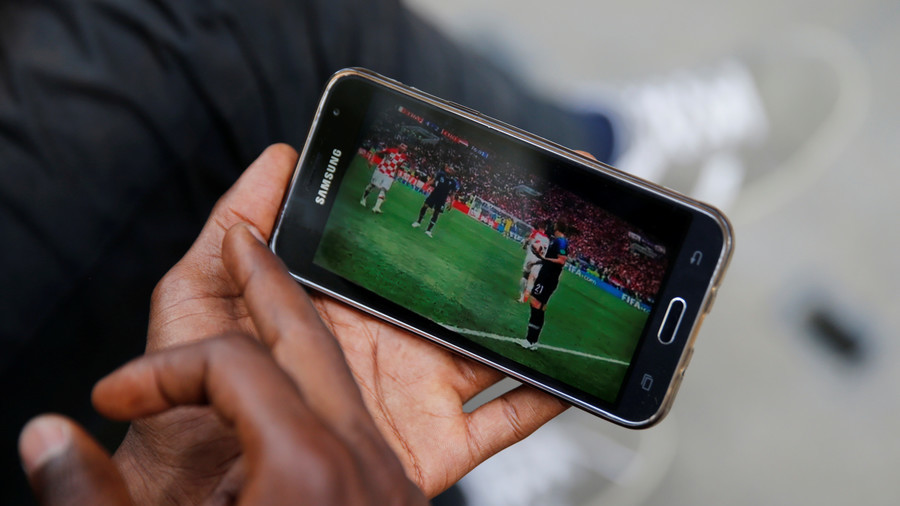 Pornhub's traffic took a dive during the World Cup final as football fans chose to focus their efforts on supporting their teams over x-rated antics.
Just before the France and Croatia final kicked off, Pornhub traffic fell by a quarter in France, and almost half in Croatia, suggesting that either more French fans chose porn over football, or that Croats usually watch a lot of adult entertainment.
Curiously, Croatia's traffic fell by 68 percent in the first hour of the match, but began to grow after that, which coincided with France's third goal in the 59th minute. Clearly when fans realized the game was up, they turned their attention back to porn. In France, Pornhub's traffic continued to fall throughout the match, relegated to second place over the beautiful game.
With France's World Cup victory it appears much of the country was too busy celebrating to think about getting back to their porn fix, as traffic stayed low for several hours after full time. In Croatia, disappointed fans turned to Pornhub to forget their bitter loss, with the country's traffic rising to more than 7 percent above its average rate.
Pornhub examined Croatian traffic for the entire World Cup, and found that when games went to extra-time, traffic plummeted on the site. Does this mean Croatians keep one eye on the game and another on Pornhub until things get really interesting on the pitch? During that crucial semi-final against England, traffic fell by 70 percent.
READ MORE: Vive la dab! Macron does dance move with World Cup winner Pogba (VIDEO)
After France and Croatia, Venezuela saw the biggest drop in traffic during the final, with traffic plummeting by 55 percent. In the US, traffic fell by about 5 percent, while in India and Japan, traffic dropped by a mere 1 percent.
Looking at the entire World Cup, Pornhub found Senegal saw the biggest drop in traffic when its team was in action, followed by Iran and Iceland. Australia, Costa Rica, England, France and Russia appear to be the more committed porn fans, with Pornhub noting an average decrease in its traffic of just 5-13 percent when those teams were playing.
While porn traffic flops during a World Cup are expected, PornHub's data shows people were clearly inspired by the game, with an influx of searches for football-themed porn on the site during the tournament.
If you like this story, share it with a friend!