Putin meets Macron ahead of World Cup final, gives flowers to French first lady (VIDEO)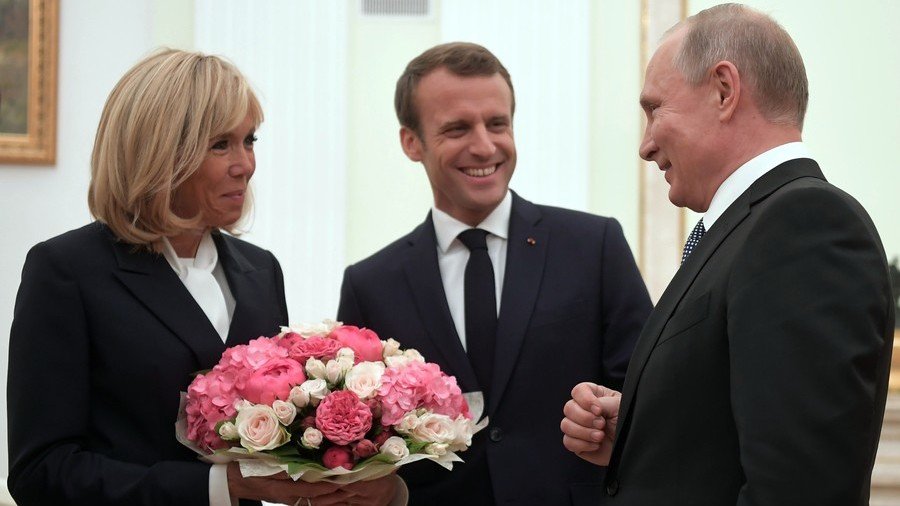 Russian President Vladimir Putin met his French counterpart Emmanuel Macron ahead of the World Cup final between France and Croatia. He marked the occasion by presenting France's First Lady Brigitte Macron with flowers.
The French president was invited to the Kremlin a few hours before the World Cup final. It's Macron's second visit to Russia in the past few days. On Tuesday, he attended the semi-final in St. Petersburg, where France defeated Belgium 1-0.
Russia's president presented Macron's wife, Brigitte, with a bouquet of flowers. Putin's habit of giving his female guests flowers entered the spotlight earlier this year, when German media considered his bouquet for Chancellor Angela Merkel to be a veiled masculine insult. Russia's leader, however, remains unshaken in his ways of courtesy.
"I wish to congratulate the whole country, the host country of this World Cup, congratulate it on such excellent organization of this event. It was followed in all corners of the world, people from all around the world came here. It was organized with magnificent security, everything was just perfect," Macron told Putin at the meeting. While the two leaders focused on football, they also discussed bilateral cooperation and outstanding international issues.
READ MORE: Putin presents Croatian president with flowers, gets football jersey in return (VIDEO, PHOTOS)
Earlier on Sunday, Putin met his Croatian counterpart Kolinda Grabar-Kitarovic, who also came to support her national team. Russia's leader presented Grabar-Kitarovic with flowers as well, receiving a football jersey bearing his name in return.
Like this story? Share it with a friend!
You can share this story on social media: